Venison Steaks with Creamed Hominy and Pigweed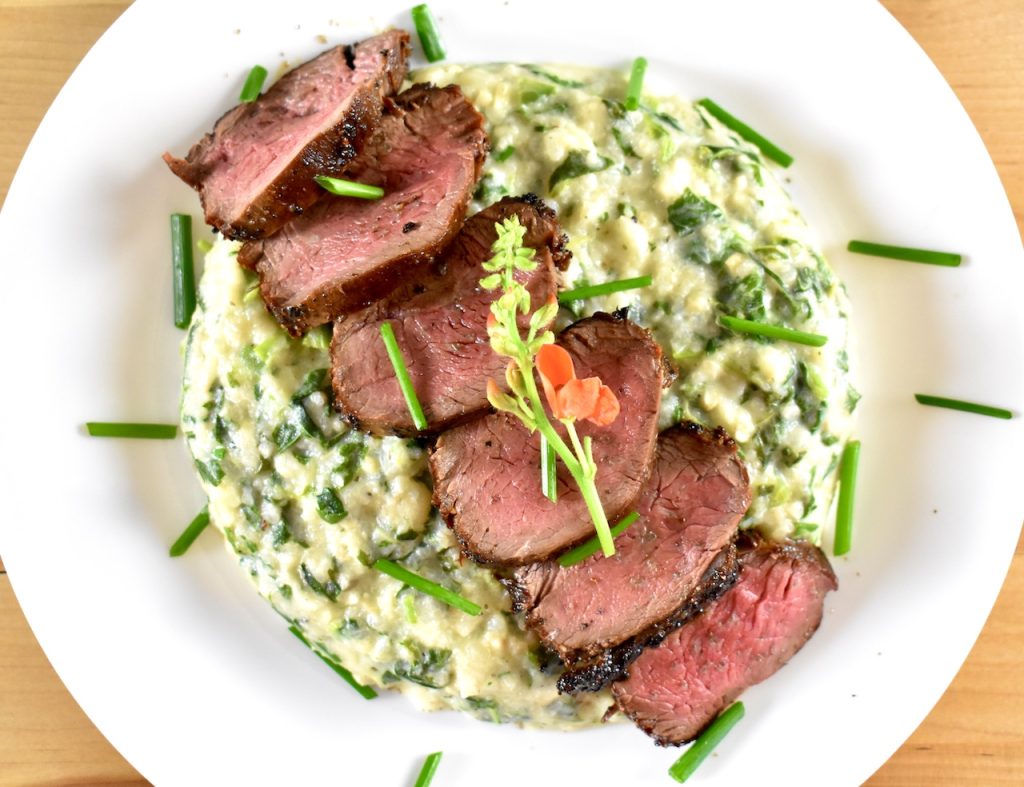 Creamed hominy is a tasty base to any meat, and it's even better with wild greens incorporated into it. 
I used pigweed, which is a type of amaranth and can often be found growing as a weed in your garden or backyard. 
Nowadays, instead of weeding these tasty greens (which are actually in the amaranth family!) out of my garden, I nurture them until large enough to harvest the leaves, then pull out the entire plants. 
Venison goes superbly well with this dish, but beef sirloin would work great as well!
Prep Time

10 min

Cook Time

30 min

Total Time

40 min

Yield

4
Cuisine

Course

Cooking Method
Ingredients
2 cans hominy, or 3 cups dried hominy, soaked overnight
1 big bunch pigweed, amaranth
1 cup heavy cream
2 tablespoons (28g) butter
1 jalapeño, diced
1/2 teaspoon (1g) garlic powder
1/2 cup (45g) grated Parmesan cheese
1/2 cup (125ml) buttermilk (optional)
2 tablespoons (30ml) cider vinegar
Kosher salt
Pepper
2lbs (900g) venison or beef sirloin
Fresh chives, for garnish
Flaky or smoked salt, for garnish
Preparation
1
Cover the hominy with water and cook until soft. If using dried, this may take over an hour, if using canned, it should only take 5-15 minutes. 
Once soft, add the hominy and 1/2 cup (125ml) of the cooking water to a blender (reserving the rest of the cooking water in the pot). 
Pulse several times until a rough, creamy consistency is achieved. 
2
Wash the pigweed well, then strip off the leaves and tender tops. 
Bring the reserved water back to a strong simmer. 
Add the pigweed leaves to the water and simmer for 2 minutes. Drain. 
3
Add the greens and blended hominy to the pot along with the heavy cream, butter, jalapeño, garlic powder, Parmesan, buttermilk, and cider vinegar.
Cook on a low simmer for 5 minutes. Add salt and pepper to taste. 
Keep cooking on low until it becomes a thick, creamy consistency.
4
Meanwhile, season the steak(s) generously with salt and pepper. 
Add the oil to a cast iron pan over high heat. Add the steak(s) and sear on all sides. 
Reduce the heat to medium and continue cooking until desired doneness. I like my steaks medium rare or 145°F internally. 
Let the steaks rest for 10 minutes. 
5
Slice the steaks and perch them atop the creamed hominy. 
Scatter some chopped chives over everything and garnish with your fanciest salt (I used smoked salt). Enjoy!