Venison alla Pizzaiola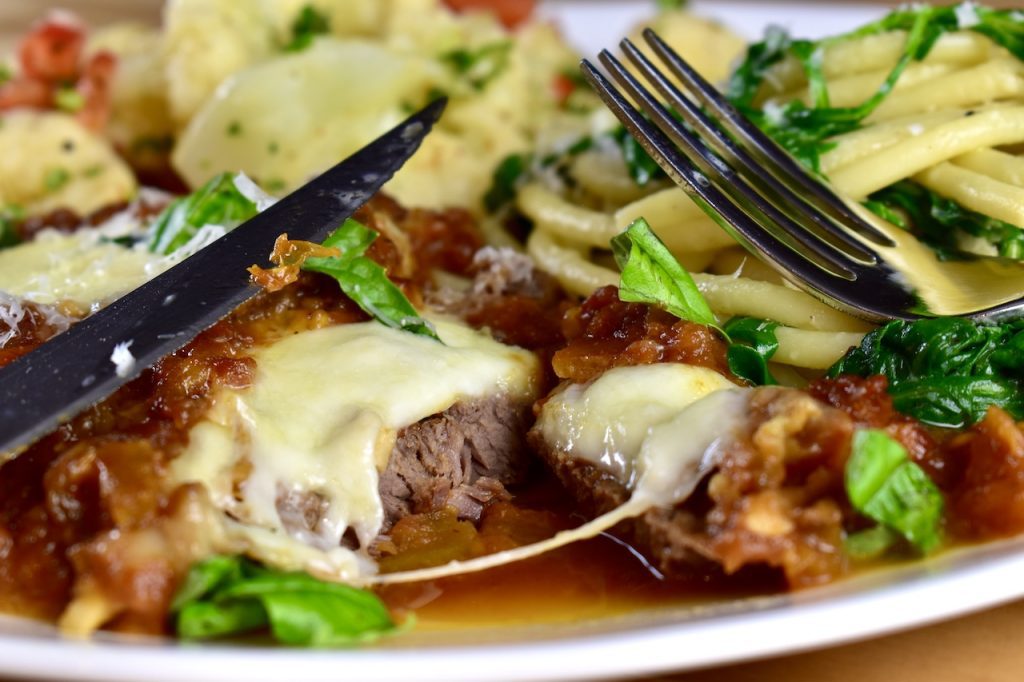 This classic recipe from Napoli traditionally uses tougher cuts of beef from the hindquarters and cooks them down in what's basically a pizza sauce. They are often topped with mozzarella cheese. 
The name, bistecca alla pizzaiola, appropriately means "pizza maker's steak". 
I made mine with venison which worked famously, but you could also use beef, wild pork, bear, or lamb. 
Serve with a plain and simple pasta and sharp salad. Make sure you have some warm Italian bread kicking around to sop up the sauce too! 
Prep Time

10 min

Cook Time

2 hr

Total Time

2 hr 10 min

Yield

4 servings

Serving Size

1 steak
Ingredients
4-8 venison round or rump steaks, about 1″ (2cm) thick
Kosher salt and black pepper
1 tablespoon (15ml) fat or vegetable oil
1 tablespoon (15ml) olive oil
1 tablespoon (15ml) tomato paste
3 cloves garlic, minced
1/4 cup (60ml) white wine
16oz (500ml) crushed tomatoes
1 teaspoon (2g) dried oregano leaves
Parmesan cheese
4-8 bocconcini cheese balls or slices of mozzarella cheese
Fresh basil leaves for garnish
Preparation
1
Put the venison steaks in between two pieces of plastic wrap. 
Use a rolling pin or meat mallet to pound the steaks to about 1/2″ (1cm) thick. 
2
Add the fat or vegetable oil to a Dutch oven or or heavy bottomed pot over high heat. 
Season the venison steaks with salt and pepper on both sides, then sear in the fat until both sides are browned, about 5 minutes. 
3
Turn the heat down to medium high, add the olive oil, tomato paste, and garlic. Cook for about 2 more minutes. 
4
Add the wine and scrape up any bits lodged to the bottom of the pot. 
Add the crushed tomatoes and oregano, stirring everything together, but making sure the steaks stay submerged. 
Reduce heat to low and cook for 2 hours, keeping an eye on it so it doesn't burn. 
5
The liquid should have reduced to a thick sauce. Stir in a handful of grated Parmesan cheese. 
Turn the broiler on in the oven. 
Place a piece of bocconcini or mozzarella onto each steak, then put the pot under the broiler until the cheese melts. Don't walk away from this, it could burn quickly!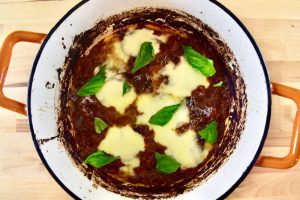 6
To serve, scoop out a steak or two for each diner, along with some sauce and the cheese. 
Grate over more fresh Parm, and sprinkle with fresh basil leaves. Serve with simple pasta, salad, and Italian bread. Enjoy!