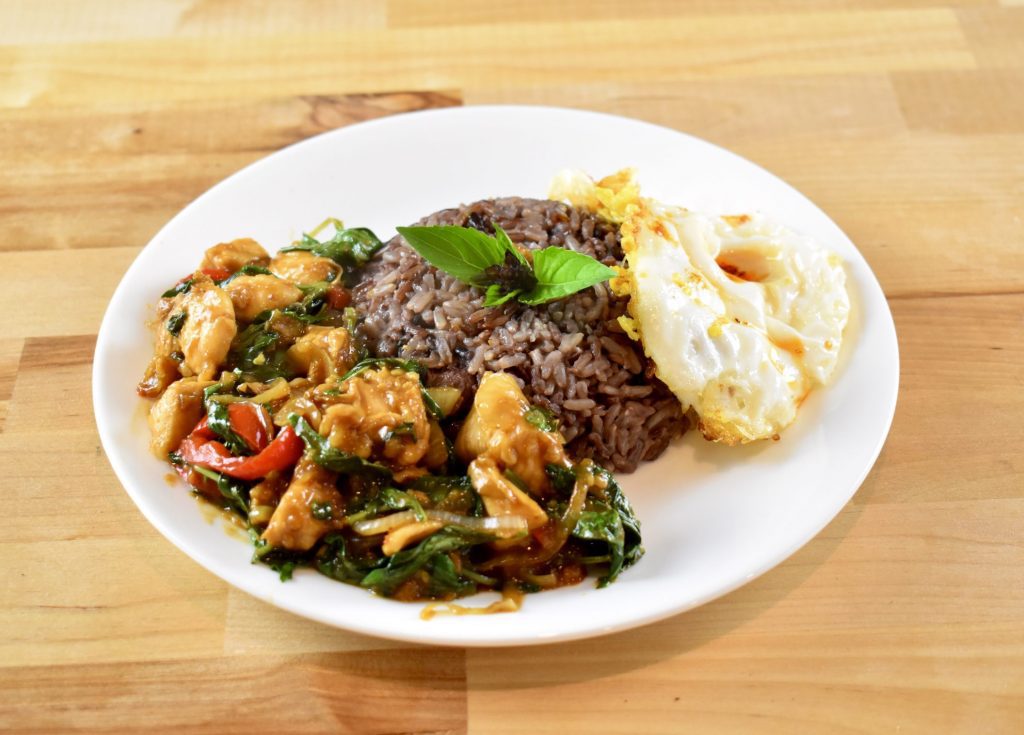 Make this classic Thai dish when you find yourself with too much basil and no desire to make any more pesto! You can use any type of basil for this recipe, but Thai basil or Holy Basil is best if you have it. 
I used a Chinese method of tenderizing meat called velveting here. It isn't necessary, but it does make the chicken extra juicy and tender. I also made this with hearty multigrain rice, but feel free to use Jasmine or your favourite type of rice. 
Make sure you add a fried egg on top like they would in Thailand!
Prep Time

20 min

Cook Time

30 min

Total Time

50 min

Ready in

30 min
Ingredients
Rice
2 boneless, skinless chicken breasts or 4 small thighs
1/2 tablespoon corn starch
1 tablespoon water
4 cloves of garlic, peeled
2 Thai bird's eye chilies*, stems cut off
3 tablespoons vegetable or peanut oil
1 egg per person
1 red bell pepper, sliced
1 shallot or small onion, sliced
1 tablespoon oyster sauce
1 tablespoon light soy sauce
1/2 tablespoon dark soy sauce (optional)
2 teaspoons sugar
1 heaping (and I mean heaping) big handful of picked basil leaves
Preparation
1
Start your pot of rice, so it will be done when the stir fry is done. 
2
Cut the chicken into bite size chunks or strips and put into a bowl with the cornstarch and water. Stir so it is all combined.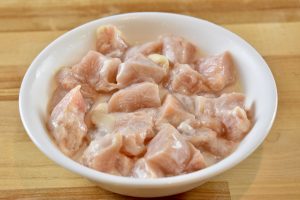 3
If you have a mortar and pestle, pound the garlic and chilies until they form a paste. If not, mince them very finely. Set aside. 
4
Heat up the oil in a wok on high. Add one egg and fry in the oil, spooning hot oil over top of it the whole time. This will cause the egg to puff up on top and become crispy on the bottom. Do not flip. Remove and set onto a paper towel to drain. Repeat until all eggs are fried. Set them aside. 
5
Prep all of your ingredients so they are ready to go into the stir fry.
Cut the veggies and pick the basil leaves.
Stir the oyster sauce, soy sauce, and sugar into a small bowl.
Keep a small glass of water near by.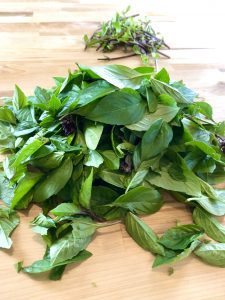 6
When the rice is done, start the stir fry.
Heat the oil in the wok back up (add more if there isn't at least 2 tablespoons left in it after cooking the eggs) on high.
Add the garlic and chilies, stir fry for 30 seconds or so, stirring constantly.
7
Now add your chicken in, and cook, still stirring constantly. If it seems to be sticking or is too dry, feel free to add a splash of water from your glass. 
Stir fry for another 2 or 3 minutes until chicken is looking almost done.
Add the peppers and shallots and stir fry for 1 more minute.
8
Add sauce and cook for another 30 seconds or so, stirring or tossing until everything is coated. 
Add your basil leaves and quickly stir them in. Take the wok off the heat and stir until the leaves have all become wilted. 
9
Serve on or next to rice* with a fried egg on top. 
Enjoy!
*Use any hot chillies you would like here, and add more if you like it spicy. If you can't find any chilies, store bought chili paste would work fine too.
*To make your rice look like it does in the picture, put some rice in a small bowl and gently bur firmly pack it down. Place the serving plate on top of the bowl where you want the rice to end up. Put one hand on the bowl and one hand on the plate and flip it over so the bowl is now on top. Put the plate down, tap the bowl with your finger, and remove, leaving a mound of formed rice!