Spring Forager's Curry with Bullhead Catfish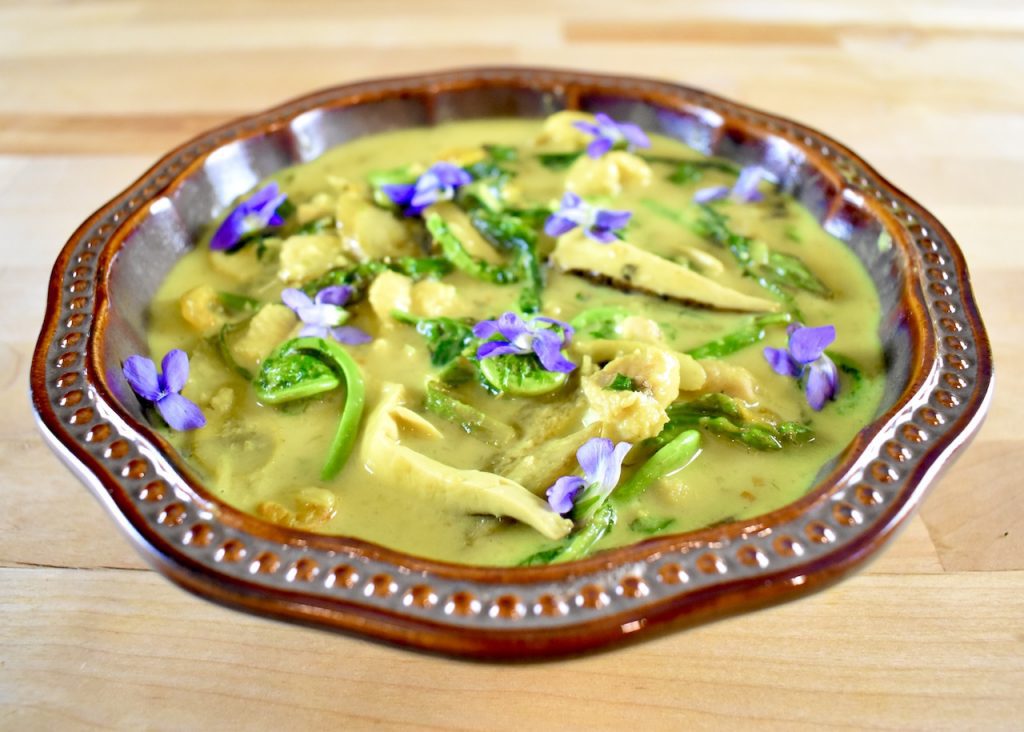 This curry has become my very favourite spring dish made with wild ingredients. 
I went with a Southeast Asian or Thai style curry for inspiration, but didn't stick to any traditional methods or ingredients. 
I used what could be found around me in the spring to make this curry and you should too. If you don't have certain ingredients, like fiddleheads or coltsfoot for example, then simply omit them, or replace them with something else you can find in your neck of the woods in the spring. 
Bullhead catfish (aka mudcats, mudpout) are at their best in the spring, but you could use crappie, pike, or any other white fish. You could also omit the fish altogether and make this vegetarian! 
Prep Time

30 min

Cook Time

30 min

Total Time

1 hr

Yield

4 servings
Cuisine

Course

Cooking Method

Special Equipment

Mortar and pestle
or
Food processor
Ingredients
For the Curry Paste
1 hot chili (jalapeño, serrano, finger, bird's eye, habanero, etc.)
4 cloves garlic
2 shallots, peeled
2 tablespoons minced lemongrass
Pinch of kosher salt
1 teaspoon turmeric powder or freshly grated turmeric
1 teaspoon grated ginger
For the Curry
1/2lb (225g) fiddleheads
2 tablespoons (30ml) vegetable oil or lard
1 big handful sliced dandelion and/or burdock root, scrubbed or peeled
1 tablespoon (4g) dried shrimp (optional)
1/2lb (225g) pheasant back mushrooms, thinly sliced and/or morel mushrooms, halved
1 cup (250ml) fish stock or mushroom stock or vegetable stock or water
1 can coconut milk
1/2lb (225g) boneless, skinless bullhead catfish fillets, cut into chunks
6-8 spears wild asparagus, sliced on a bias
1 big handful young dandelion leaves
6 Makrut (kaffir) lime leaves, dried, frozen, or fresh
2 tablespoons (30ml) fish sauce
1 teaspoon (4g) sugar
1 small handful coltsfoot and/or dandelion blossoms, green part still attached
Juice of 1 lime
Violet blossoms for garnish
Preparation
1
If using food processor, add all of the curry paste ingredients together in the processor and blitz until it forms a smooth paste. 
If using a mortar and pestle, mince the chili, garlic, shallots, and lemongrass. Add to the mortar and pestle with the pinch of salt and bash and scrape until a paste forms. Add the turmeric and ginger and grind until it is well-incorporated. 
Set aside. 
2
Bring a pot of water to the boil. Add the fiddleheads and boil for 2-5 minutes and discard the water (USDA and Health Canada recommend boiling fiddleheads for at least 15 minutes. I think that's overkill. Use your own discretion!).
Transfer the fiddleheads to a bowl of cold water for 5 minutes, then drain them out in a colander. Set aside until the recipe calls for them. 
3
Add the oil to a wok or large pot over medium high heat. 
Add the curry paste and stir fry for 5 minutes, allowing it to become darker and fragrant. 
Add the burdock and/or dandelion roots and the dried shrimp (if using) and cook for 2 minutes. 
Add the mushrooms, and cook, stirring, for 2 more minutes. 
Add the fish stock, cover, and reduce to medium low. 
Cook for 8 more minutes. 
4
Uncover the wok/pot and add the coconut milk, fish, asparagus, dandelion greens, lime leaves, fish sauce, and sugar. Stir to combine well and cook for 5 minutes on medium heat. 
Add the blanched fiddleheads and the coltsfoot/dandelion blossoms.
Simmer for 2 more minutes (if you'd like the curry to be thicker, add a slurry made from 1 tablespoon of water and 2 teaspoons cornstarch – cook until liquid thickens), then pull off of the heat and stir in the lime juice. 
Pluck out the lime leaves if so inclined as they are not meant to be eaten. 
5
Serve the curry on its own, with jasmine rice, or with rice noodles. Garnish with a sprinkling of fresh wild violets. Enjoy!