Ruffed Grouse, Porcini, and Sunchoke Risotto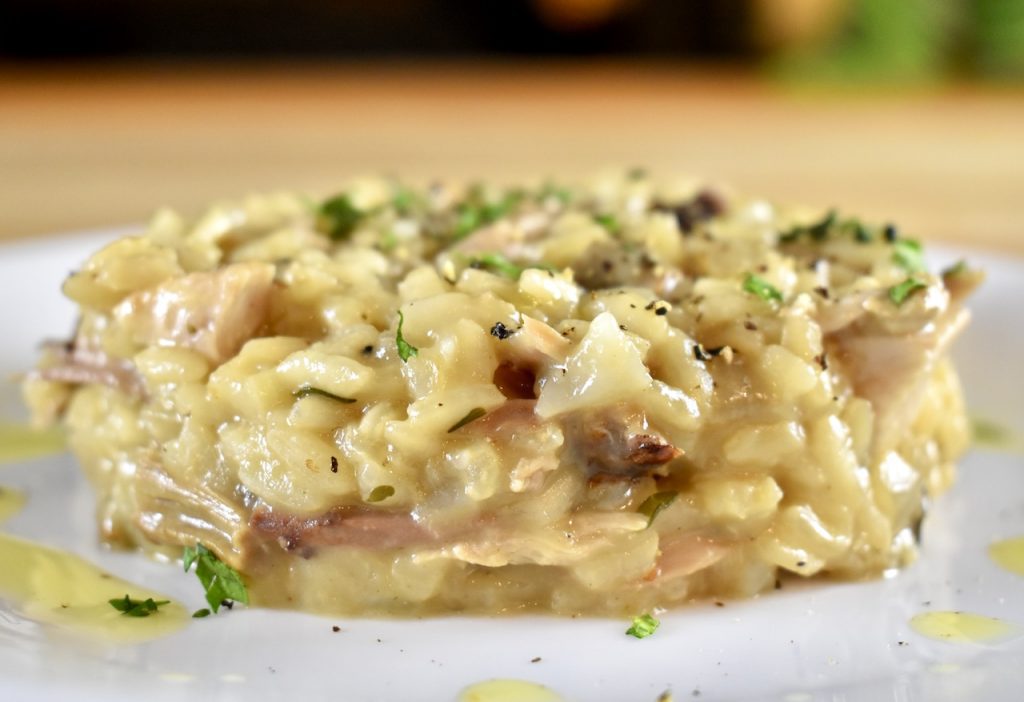 Like most risotto, this dish is a labour of love. There are several different steps involved, and you must stick with the dish, stirring, for it to work properly. 
Let me tell you though, the hard work is well worth it!
Creamy, decadent, delicious, this risotto will impress everyone you cook it for. 
I find using the whole grouse to make the stock adds so much more flavour, but if you breast out your birds (try plucking, it's a pain, but worth it), you can just use store bought or homemade chicken broth. 
If you like the flavour of parsnip, I recommend adding one to the sunchokes (aka Jerusalem artichokes), as the recipe describes. 
Prep Time

30 min

Cook Time

2 hr

Total Time

2 hr 30 min

Yield

4 servings
Cuisine

Course

Cooking Method
Ingredients
1 whole grouse
8 cups (2L) water
or
2 grouse breasts
6 cups (1.5L) chicken stock
Kosher salt
5oz (14g) dried porcini mushrooms
1lb (454g) sunchokes (Jerusalem artichokes)
1 parsnip (optional)
1 + 2 tablespoons (14g + 28g) butter
1 onion, chopped
2 cloves garlic, minced
11/2 cups (350g) Arborio rice 
1 teaspoon (2g) dried thyme leaves
1/2 cup (125ml) dry white wine
1 cup (90g) loosely packed freshly grated Parmesan cheese
Black pepper
Truffle oil (optional)
Preparation
If using a whole grouse
1
Preheat the oven to 400°F (200°C, gas mark 6).
Cut the breasts off of the grouse. Season them with salt and set them aside on a plate. 
Put the grouse carcass on a roasting try or in a roasting pan and put into the oven for 20 minutes. 
Remove from the oven, put in a pot, and cover with 8 cups of water. 
Simmer on low for 1 hour. Remove and set aside to cool, reserving the stock for the risotto. You'll want about 6 cups of stock, so top it up with water if need be. 
Once cool, pick off all useable meat and discard the bones. 
If using only grouse breasts
2
Season the grouse breasts with salt and set them aside on a plate. 
For the risotto
3
Boil 1 cup of water, then take it off the heat. Add the dried porcini and let them soak for about 30 minutes. 
Remove the hydrated mushrooms and chop them roughly. Set aside. 
Add the mushroom broth to the grouse/chicken broth, leaving any grit in the bottom of the pot when you pour it in. Discard the grit if there is any. 
4
Set another pot of salted water to boil. 
Working with one sunchoke at a time, peel, chop roughly, and toss into the boiling water. Repeat with the rest. 
If using parsnip, peel, roughly chop, and throw it in with the sunchokes. 
Simmer for 20 minutes, or until soft enough to mash. 
Drain, add 1 tablespoon of butter and mash roughly with a sturdy fork or potato masher. It doesn't need to be smooth, chunks are okay. Set the mash aside. 
5
Add 2 tablespoons of butter to a large skillet over medium heat. 
Add the grouse breasts and cook for 1 minute per side. Remove and chop into cubes (the grouse won't be quite cooked through, but will finish cooking in the risotto). Set aside. 
6
Add the onions to the same pan and cook for 5 minutes. 
Add garlic and the uncooked rice and cook until the grains begin to turn opaque, about 5 minutes. 
Add the thyme and the chopped porcini. 
7
Add the wine and let it cook until it is mostly evaporated. 
Reduce heat to medium low. 
Begin adding 1 ladleful (or cupful) of the grouse/mushroom stock at a time, letting each one mostly evaporate before adding another. You'll be stirring very often during this process, so you can't walk away from the stove. 
Keep adding stock like this and stirring until eventually the rice turns creamy and is just past al dente. 
If you run out of stock, you can switch to plain water. 
This process should take approximately 30 minutes. 
8
Mix in the mashed sunchokes, Parmesan cheese, cubed breast meat, and the rest of the meat you pulled off the carcass (if using). Cook for 2 more minutes. 
Taste for salt and add more if necessary. Season with black pepper.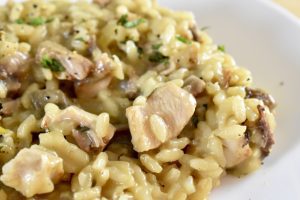 9
To serve, spoon onto plates, crack on more black pepper, sprinkle over some parsley or fresh herbs, and drizzle with truffle oil (or good olive oil). Enjoy!