Portuguese Buns – Papo Secos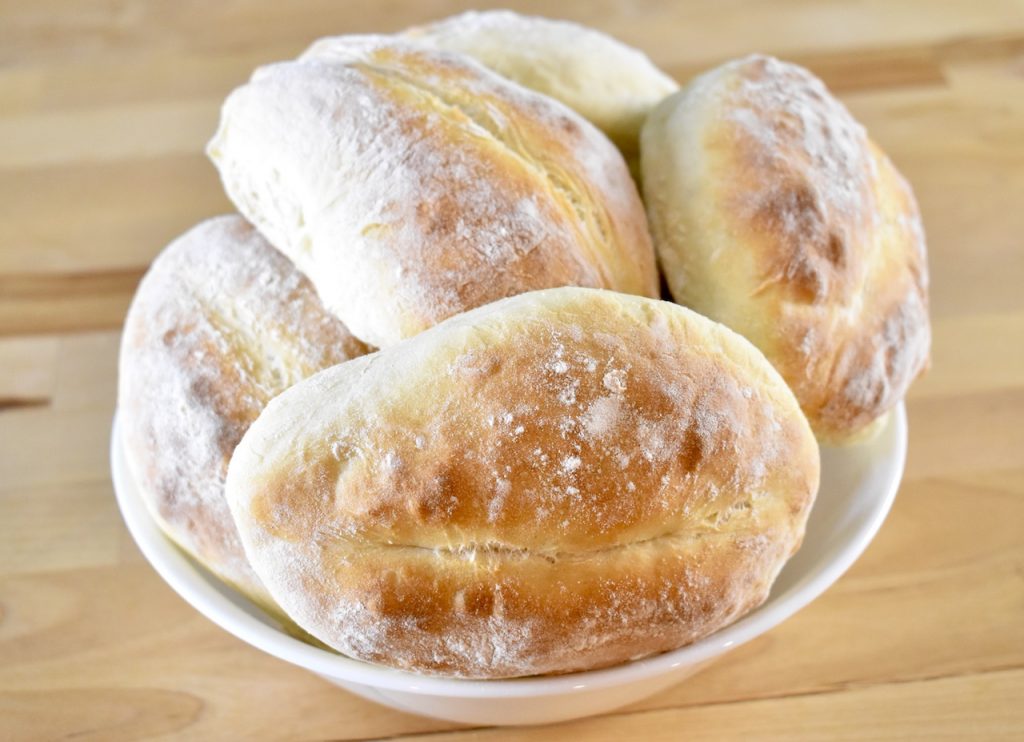 These Portuguese bread rolls have always been my favourite type of bun. 
I grew up in a city that had a lot of Portuguese people and buying these fresh from the Portuguese bakeries was unbeatable. 
Now that I don't live anywhere close to a Portuguese bakery, I have to make them for myself! 
Luckily they're pretty simple to make. Try not to make too many at once, since these will go stale much faster than store bought bread. 
Try topping them with my Portuguese Caçoila Moose Heart for an amazing sandwich!
Prep Time

2 hr

Cook Time

20 min

Total Time

2 hr 20 min

Yield

8-10 buns
Cuisine

Course

Cooking Method

Suitable for Diet
Ingredients
1 packet or 2 1/4 teaspoons dry active yeast
2 teaspoons white sugar
2 cups lukewarm water
5 cups+ all-purpose flour
2 teaspoons salt
2 tablespoons butter, melted
Cornmeal for dusting
Preparation
1
Add the yeast, sugar, and water to a large mixing bowl. 
Stir everything together, then let sit for 5 minutes. 
2
Slowly add in the flour, salt, and melted butter, stirring it all together with a wooden spoon. 
Keep stirring until a dough ball begins to form, then switch to your clean hands to continue forming the dough into a ball, being sure to pick up all of the loose flour. 
If the ball is too sticky to work with, add in small pinches of flour until it's not so sticky. 
3
Knead the dough in the bowl for 5 minutes. Smear some oil or melted butter around the inside of the bowl so the dough doesn't stick, then cover the bowl with a damp towel or piece of plastic wrap. 
Let rise for 1 hour in a warm place. 
4
Tip the dough out of the bowl onto a floured surface and knead lightly for 1 or 2 minutes, or until the dough feels smooth. 
5
Divide the dough into 8-10 smaller pieces. 
Flour your hands and use them to shape the pieces into balls. 
Set them on a floured surface and drape the towel or plastic wrap back over them and let them rest for 20 minutes. 
6
Meanwhile place an ovenproof dish of water on the lower rack of the oven and preheat it to 425°F. 
7
Flour the counter and your hands generously. 
Take a piece of dough and gently pull at two opposing sides, creating an ovoid shape. 
Press down on the oval gently, flattening it to about an inch (2cm) tall. 
Take the edge of your hand and press it in the middle of the oval (from tip to tip). 
Pinch the oval on either side to bring the edges of the crease you made with your hands together into a line. 
Repeat with the rest of the dough balls.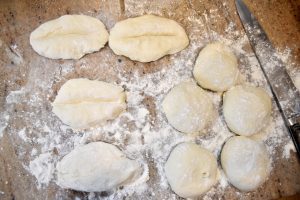 8
Spread a small handful of cornmeal onto a lined baking tray. 
Arrange the buns on top of the corn meal, then let them rest 5 minutes. 
Put the tray into the oven for 15-20 minutes, or until the buns are golden brown.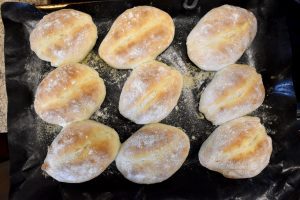 9
Transfer buns to a rack to cool. 
For the true chewy texture of Portuguese buns, leave them out on the counter for an hour or two before serving. Enjoy!