Pike Head Congee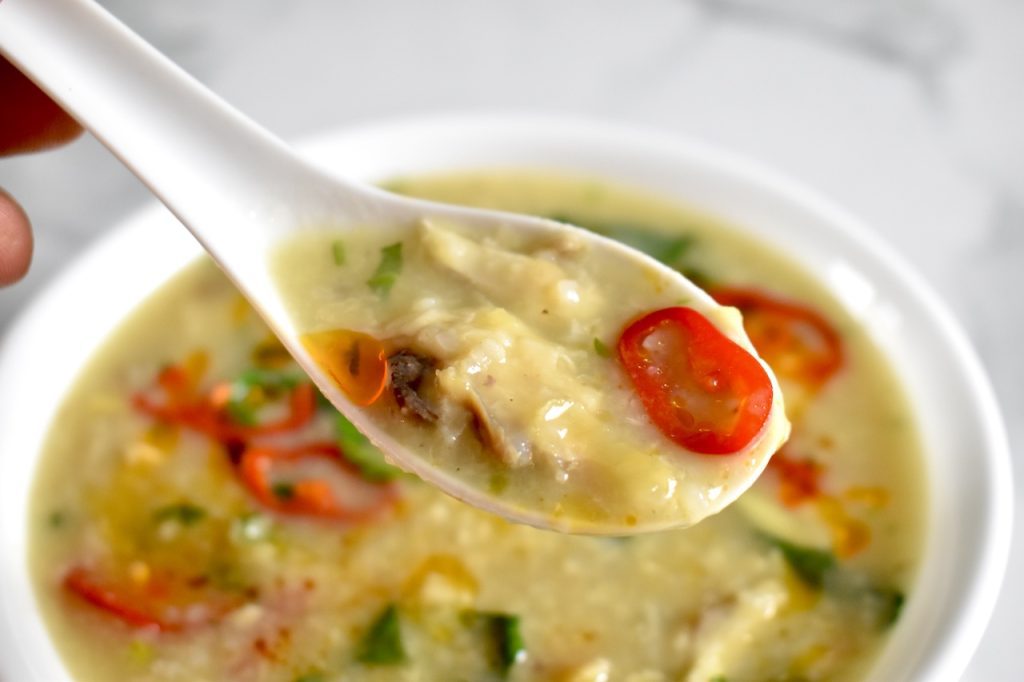 This pike head congee uses a broth made from, you guessed it, pike heads to cook the rice. The heads add an incredible flavour and texture!
You can use any fish head to make this recipe, just be sure to remove the gills first to avoid the bitter flavours they impart. 
Garnish the congee however you like. I used sliced chilies and chili oil here, but you could use crispy fried shallots or garlic, crushed peanuts, fried fish skin, or Chinese youtiao donut sticks. 
Prep Time

15 min

Cook Time

4 hr

Total Time

4 hr 15 min

Ready in

2-4 Hrs

Yield

4 servings
Ingredients
For the broth
2 large pike heads
1/4 cup (60ml) Shaoxing wine
1/4 cup (60ml) light soy sauce
2 tablespoons (30ml) vegetable oil
12 cups (3L) fish stock or water
3 thick slices of ginger
2 scallions/green onions, trimmed
For the congee
1 cup (200g) white jasmine rice
2 oz (60g) fresh spinach, chopped
1 clove garlic, minced
3 thin slices ginger, sliced into ribbons
3 scallions/green onions, sliced
2 tablespoons (small handful) chopped cilantro leaves and stems
2 teaspoons (10ml) light soy sauce
1/4 teaspoon (0.5g) white pepper
Sliced chilies for garnish
Chili oil for garnish
Preparation
1
Remove the gills from the fish heads and give them a good rinse. 
If you're capable, use a heavy knife or cleaver to chop the heads into several pieces. This is actually quite tough to do, so don't worry if it isn't possible for you. 
If using store bought fish heads, try to get the fish monger to de-gill and chop them for you. 
2
Toss the fish head pieces in the wine and soy sauce and let them marinate for 30 minutes. 
Drain off the liquid, but don't rinse it off. 
3
Heat the oil in a large pot over medium high heat. 
Add the fish heads or pieces to the pot and sear on all sides until some colour starts to develop, about 5-8 minutes. Don't worry if pieces are sticking to the bottom of the pot. 
4
Add the stock or water to the pot, scraping up anything stuck to the bottom.
Add the ginger and scallions and bring to a strong simmer. 
Reduce to a low simmer, and cook for 20 minutes, spooning off any scum that rises to the surface. 
5
Strain the liquid through a fine meshed strainer, then add the strained liquid back to the pot (you're probably going to want to wash it first). 
Let the pike heads cool, then go through them for usable meat, being careful to avoid any bones or scales. Look for meat in the cheeks, behind the eyes, in the collar, back of the head, and under the jaw. Set the meat aside. 
Discard the bones and spent scallions and ginger. 
6
Add the rice to the liquid and bring to a boil. Reduce to a low simmer and cook, stirring every 5-10 minutes for 1 hour. 
The rice should look something like this: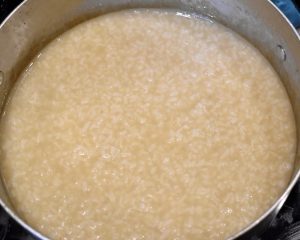 You can finish off the congee at this point, but I like cooking the rice down for quite a bit longer, another 2-3 hours at least. This results in a creamier, silkier congee, but it's up to you and how you like it. 
7
Once the congee has acquired the desired consistency, add the spinach, garlic, ginger, scallions, cilantro, soy, and white pepper. Add the picked pike head meat as well. Cook for 15 more minutes. 
Taste and add salt if necessary. I also like to add a little pinch of MSG. 
8
To serve, ladle into bowls and garnish with sliced chilies and some chili oil. Enjoy!