Old Man of the Woods Burrito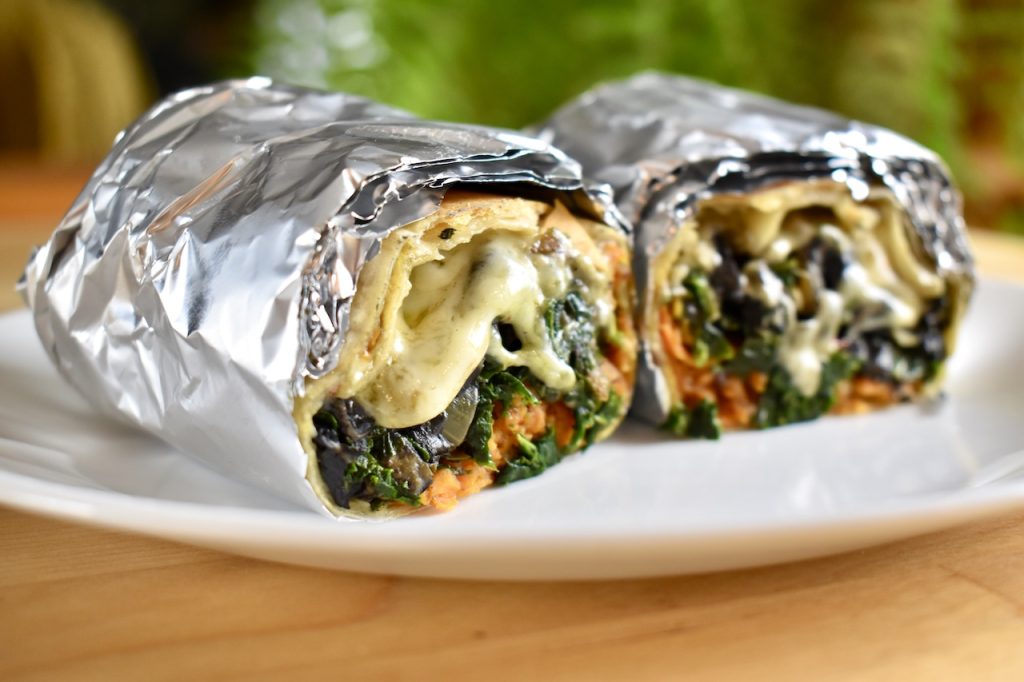 These vegetarian burritos make for an excellent hearty lunch. 
Although you could use any mushroom in this recipe, I like to make them with wild old man of the woods (Strombilomyces floccosus) mushrooms for their woodsy flavour.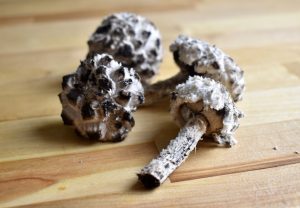 You can replace all of the spices with a chili powder blend if you'd like. 
Prep Time

10 min

Cook Time

25 min

Total Time

35 min

Yield

2 large burritos

Serving Size

1 burrito for a big lunch, or 1/2 for a light lunch
Cuisine

Course

Cooking Method

Suitable for Diet
Ingredients
1 medium sweet potato
1 tablespoon (15ml) + 2 teaspoons (10ml) vegetable oil
1 teaspoon (2g) smoked paprika 
1 teaspoon (2g) garlic powder
1 teaspoon (2g) ground cumin
1/2 teaspoon (1g) dried oregano leaves
1/2 teaspoon (1g) chili flakes (I used chipotle)
1/2 teaspoon (2.5g) kosher salt
1/2 teaspoon (1g) black pepper
4 oz (120g) old man of the woods mushrooms, sliced, stems discarded
1 medium onion, chopped
4 kale leaves, stripped from the stems and chopped
1 small handful cilantro, chopped
2 tablespoons (30ml) salsa verde or hot sauce
4 oz (120g) Monterrey Jack cheese or cheddar or mozzarella, shredded
2 large tortillas
Preparation
1
Preheat oven to 350°F (180°C, gas mark 4).
2
Peel the sweet potato, then shred it on a cheese grater. 
Heat oil in a skillet over medium heat. Add the shredded sweet potato, spices, and 1/4 cup (60ml) of water. 
Cook, stirring, until dry and soft, about 5 minutes.
Set aside.  
3
Wipe out the skillet, add in the 2 teaspoons of oil, and turn the heat up to medium high. 
Add the sliced mushrooms, season with a small pinch of salt and pepper, and cook for 2 minutes. 
Add the onion and cook for 2 minutes. 
Add the kale and cook for 2 more minutes. 
4
Lay the tortillas out. 
Spread half of the sweet potato mixture on each, in the middle. 
Layer on the cilantro, salsa verde or hot sauce, the mushroom/kale mixture, then the cheese. 
Wrap tightly.
5
Put the burritos seam-side-down onto a baking sheet and transfer to the oven for 10-15 minutes, or until the tortillas begin to look golden. 
Wrap tightly in foil or wax paper and cut in half to serve.