Mexican-Japanese Tuna Temaki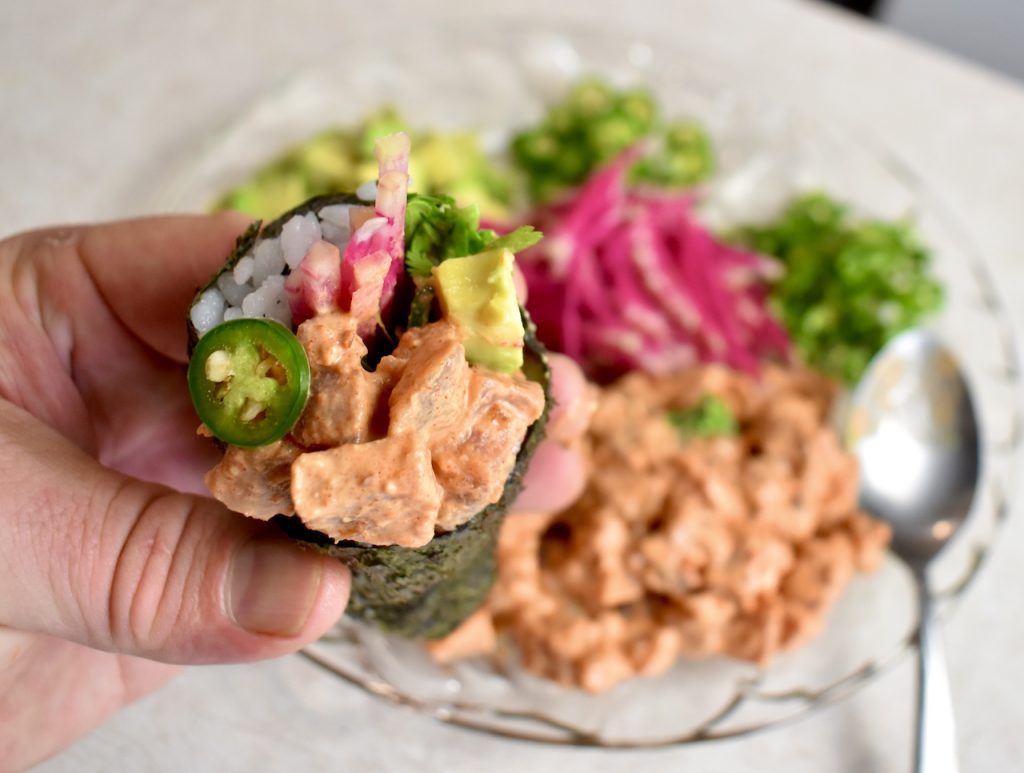 ***Consuming raw or undercooked meats, poultry, seafood, shellfish, or eggs may increase your risk of foodborne illness, especially if you have certain medical conditions.***
Taking a page out of Japanese cooking, mixing it with Mexican flavours… with some Western technique, and even a little bit of inspiration from Hawaii, I made these super fusion-y, but super tasty sushi hand rolls, or temaki. 
You could make these with sushi grade tuna, salmon, or snapper, and you could of course modify the fillings to suit your taste. 
These hand rolls make for a fun dinner party, with everyone rolling their own cones one by one and getting hands on with the ingredients. It's also super quick to prepare, and the only cooking involved is the sushi rice, so you won't be forever in the kitchen while the guests enjoy themselves in the other room. 
Prep Time

15 min

Cook Time

15 min

Total Time

30 min

Yield

4 light servings

Serving Size

3 rolls
Ingredients
For the Tuna
1/2lb (225g) sushi grade tuna, chopped into small cubes
2 chipotle peppers in adobo sauce, seeded and minced
1 teaspoon (5ml) adobo sauce from the can
3 tablespoons (45ml) mayonnaise
1/4 teaspoon (.5g) garlic powder
1/2 teaspoon (1g) smoked paprika
Juice of 1 lime
For the Rolls
2 cups (400g) cooked sushi rice
1 tablespoon (15ml) rice wine vinegar
1 avocado, sliced
1/2 watermelon radish or 2 red radish, julienned
1 serrano or jalapeño pepper, thinly sliced
1 handful chopped cilantro
6 sheets of nori seaweed paper, cut in half with scissors
Preparation
1
Mix together all of the tuna ingredients in a bowl until well combined. Toss in the cubes tuna until fully coated. 
Add the rice wine vinegar to the cooked sushi rice and mix it in well. 
2
Set up all of your ingredients on the table. 
Pre-rolling these temaki cones will lead to chewy and shrivelled nori, so it is best to roll them one at a time and eat them. This makes for a fun family meal!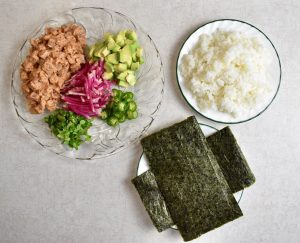 3
Spread some cooked rice over 1/2 of a piece of nori, in one fluffy layer.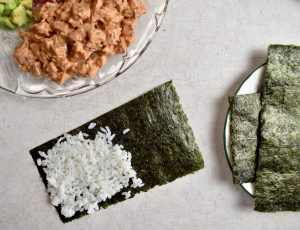 4
Add some of each of the toppings from the top left corner of the rice to the bottom right corner. It's best to start with less until you get better at it.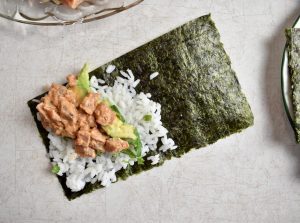 5
Use your fingers to roll the bottom left corner over the toppings. Continue to roll in this manner until you end up with a cone.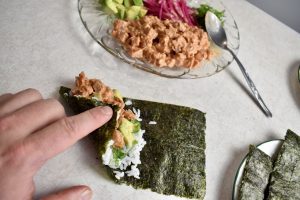 6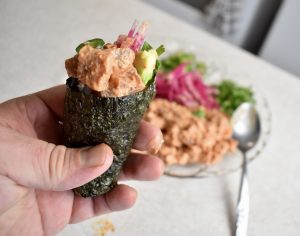 Now eat it and keep rolling cones until the ingredients are all gone. Enjoy!