Grilled Venison Steak and Peach Salad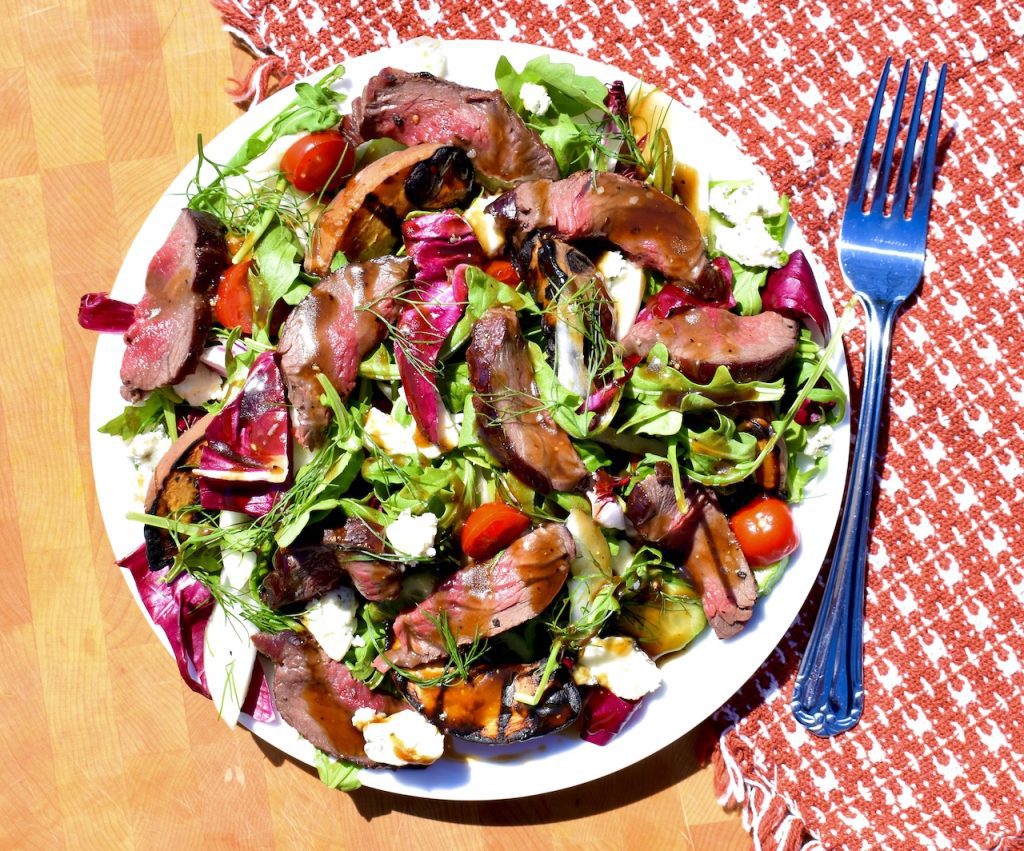 This salad makes for a perfect light and refreshing, yet filling, summer dinner.
I like the smoky flavour of grilled peaches, but if you prefer them fresh and juicy, feel free to skip the grilling step.
I made this salad with whitetail steaks, but it would taste equally good with mule deer, axis, nilgai, elk, or moose.
Simply double the recipe if you'd like to make a larger salad.
Prep Time

30 min

Cook Time

10 min

Total Time

40 min

Yield

2 as a large dinner or 4 as a lighter lunch
Ingredients
For the Dressing
2 tablespoons (30ml) balsamic vinegar
3 tablespoons (45ml) olive oil
1 tablespoon (15ml) honey
1 teaspoon (5ml) Dijon mustard
1 pinch kosher salt
1 pinch black pepper
For the Salad
1lb (454g) venison steak(s)
Kosher salt
Black pepper
3 peaches, cut into wedges
6 radicchio leaves, sliced into thick ribbons
2.5oz (70g) arugula leaves
2 Persian cucumbers or ½ regular cucumber, sliced
½ fennel bulb, sliced (plus fronds for garnish)
½ pint cherry tomatoes, cut into thirds
5oz (150g) blue or goat cheese, crumbled
Preparation
1
Light the grill up and get it hot.
2
Season the venison steak(s) generously with salt and pepper. Grill until medium rare, about 135°F.
3
Grill the peach wedges as well, cooking them on both sides until they develop grill
marks, about 3-4 minutes.
4
Let the steak rest while you prepare the salad.
5
Add the radicchio, arugula, cucumbers, fennel, tomatoes, and goat cheese to a large
salad bowl.
6
Mix all of the dressing ingredients together with a fork in a small bowl.
7
Cut the venison steak into thin slices and add any of the juices to the dressing.
Add the steak and peaches to the bowl, then toss in the dressing, mixing it in until
everything is coated.
Serve immediately, garnished with a few fennel fronds. Enjoy!