Goose and Black Trumpet Chop Suey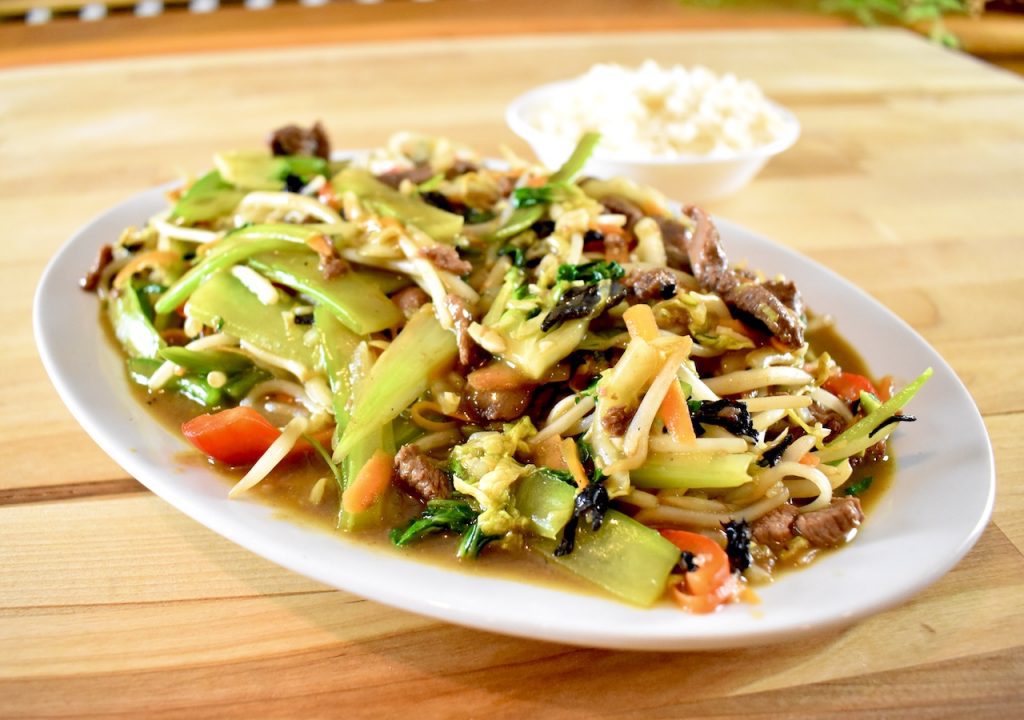 Chop suey is a Canadian/American-Chinese dish that likely originated in Guangdong province and was brought over by Cantonese immigrants in the 19th century. 
It has slightly different iterations all over the world, but generally consists of cabbage, celery, bean sprouts, and some sort of protein stir fried in a sauce that's thickened with cornstarch and served with or on rice. 
I gave mine a wild twist, using Canada goose breast and black trumpet mushrooms. Like all chop suey, this recipe is a loose one. If you want to replace the goose with beef, duck, chicken, or tofu, go ahead! You can also swap out any of the vegetables in the recipe, as long as you use semi-firm vegetables that you've cut small. 
This is a pretty easy recipe, but everything comes together FAST, so you have to be ready for it. Have all of your ingredients chopped and in small bowls near the stove, ready to be tossed in the wok. It should be cooked over very high heat, and you should be stirring pretty much constantly. They don't call it a stir fry for nothing! 
Prep Time

30 min

Cook Time

5 min

Total Time

35 min

Yield

4 servings
Ingredients
For the Stir Fry
6oz (175g) goose breast, no skin
1 tablespoon (15ml) soy sauce
1 tablespoon (9g) cornstarch
1 tablespoon (15ml) + 2 tablespoons (30ml) rendered goose/duck fat or vegetable oil
1 carrot, peeled and grated (use large holes on grater)
2 sticks of celery, cut into thirds, then cut into batons
6 baby, or 2 medium bok choy, sliced thinly into ribbons
1/2 red pepper, sliced 
1/2 green pepper, sliced
1 cup shredded Napa cabbage
1/2lb (225g) bean sprouts
0.25oz (8g) of dried black trumpet mushrooms, reconstituted in water (or 2oz (55g) fresh)
For the Sauce
1/2 cup (125ml) mushroom soaking liquid (or chicken/goose/mushroom/vegetable stock)
2 tablespoons (30ml) soy sauce
1 tablespoon (15ml) oyster sauce
1 teaspoon (5ml) sesame oil
1/2 teaspoon (2g) white sugar
2 cloves garlic, minced
1/2 tablespoon (5g) cornstarch
Preparation
1
Slice the goose breast into thin bite-sized slices. 
Mix together the soy sauce and cornstarch in a bowl. Add the goose and toss together until every morsel of meat is coated. 
Let marinate for 15-30 minutes while you chop your vegetables and prepare the sauce. This process is called velveting and works great for goose. 
2
To make the sauce, mix together all of the ingredients in a bowl and stir well. Set aside. 
3
Heat 1 tablespoon of the fat/oil in a wok over high heat. Add the goose and stir continually, scraping up anything that sticks to the wok, for about 1 minute. 
Tip the goose back into the bowl and set aside. 
4
Clean out the wok. 
Add the other 2 tablespoons of fat/oil over very high heat until smoking slightly. 
Add all of the vegetables except for the bean sprouts and mushrooms and cook, tossing and stirring with a spoon constantly, for 1 minute. 
Add the sprouts, mushrooms, and the goose (including any juices) and cook, stirring constantly, for 1 more minute. 
5
Turn the heat down to medium, quickly stir the sauce so the cornstarch is reincorporated, and pour it in over the stir fry. 
Quickly toss the meat and vegetables in the sauce while it thickens, which should take about 30 seconds to 1 minute. 
*If it thickens up too quickly and sticks to the bottom, add a shot of water from the tap and stir it in. 
*If it won't thicken up, turn up the heat and add more cornstarch slurry (1 teaspoon cornstarch, 2 teaspoons water)
6
Serve immediately with white rice and sriracha hot sauce if you like it spicy. Enjoy!