Ginger Scallion Bear Dumplings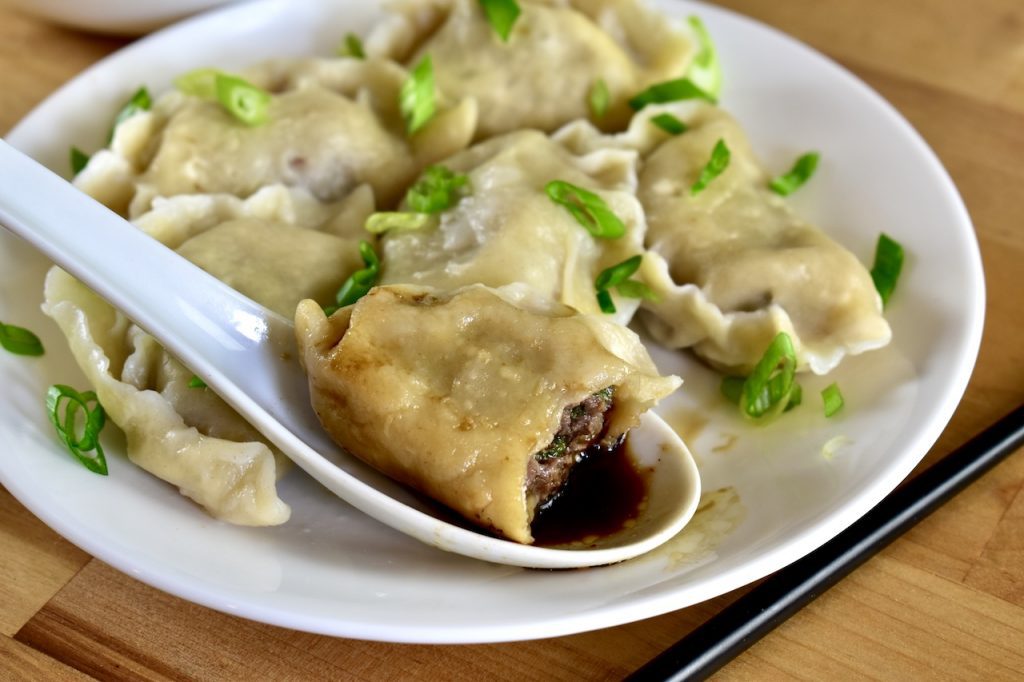 These Chinese style dumplings are a fantastic way to enjoy bear meat. 
The threat of trichinosis is real though, so make sure the meat is cooked 100% before serving. It's best to get yourself a reliable temperature gauge (I like this one) if you're going to be working with bear, and make sure everything is cooked to beyond 145°F. 
Serve the dumplings as is, or pan fry them in some oil after you've boiled them for a crunchy exterior. 
Prep Time

10 min

Cook Time

10 min

Total Time

20 min

Yield

Approx. 24 dumplings
Ingredients
1/2lb (225g) ground bear meat
8 scallions, thinly sliced (plus 1 more for garnish)
2 tablespoons (8g) minced cilantro leaves
1 tablespoon (6g) minced ginger
2 cloves garlic, minced
2 teaspoons (10ml) soy sauce
1 teaspoon (5ml) sesame oil
1 teaspoon (5ml) vegetable oil
1 teaspoon (5ml) Shaoxing wine (optional)
1/2 teaspoon (2g) kosher salt
1/4 teaspoon (1g) white pepper
24 wonton or dumpling wrappers
Preparation
1
Mix together all of the ingredients, except for the wrappers, very well.
Always stir in one direction while mixing to maintain a sticky paste that stays together well in dumplings. 
2
Spoon a teaspoon or so of the meat mixture onto a dumpling wrapper. Fold it over and crimp the edges closed. 
If the edges won't seal, dip your finger in water, run it over the edges, then try again. 
Repeat with the rest of the dumplings. 
3
If you'd like to freeze some or all of the dumplings, put them onto a baking sheet, ensuring that they are not touching. 
Put the whole baking sheet into the freezer overnight. Dump the frozen dumplings into a ziplock bag and freeze. 
Cook straight from frozen, allowing a couple more minutes of cooking time. 
4
Bring a large pot of water to the boil. 
Add the fresh or frozen dumplings. Bring the water back to the boil, then reduce it to a strong simmer. 
Cook for 15 minutes, or until a temperature gauge reads over 145°F inside each dumpling (this is to avoid trichinosis – take this seriously!). 
Serve sprinkled with sliced scallions and a dipping sauce made from soy sauce, chili oil, and black vinegar. Enjoy!