German Kale with Venison Sausage (Grünkohl mit Pinkel)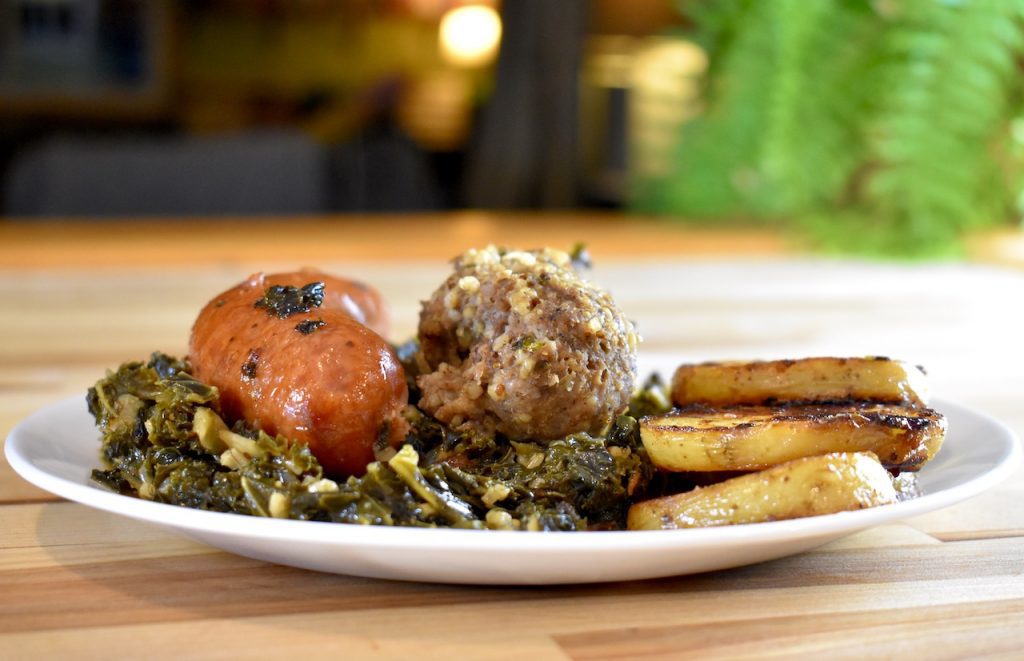 This German kale and venison sausage dish is my take on grükohl mit pinkel, a popular dish in Northern Germany, specifically Bremen.
I had this dish while visiting friends in Bremen and Bremerhaven, which are located on the northwest coast of Germany. 
Every year, the people there wait anxiously for the first frost. This is because they refuse to eat green kale (grünkohl) before it has been kissed by the frost and thereby made sweeter. 
When the time finally comes, they gather and go out on a kohlfahrt, which can either be a brisk hike, or a planned route full of stops and games. Either way it is important to bring some schnapps and beer along! 
Everyone then gathers at houses or local bars where someone has been cooking this kale dish all day to fill hungry bellies. 
You're going to need a lot of kale for this dish (A LOT) but it all cooks down into something much more manageable by the end. 
If you don't want to make the pinkel sausages (or can't find them at a European delicatessen or butcher shop), you can forego them and just do the smoked sausages instead. 
This dish should always be served with potatoes, either boiled, or panfried and caramelized with a touch of sugar. 
Prep Time

2 hr

Cook Time

3 hr

Total Time

5 hr

Yield

6 servings
Cuisine

Course

Cooking Method

Special Equipment

Meat grinder
Sausage stuffer
Ingredients
For the Venison Pinkel
1/2lb (225g) fatty pork shoulder or belly, cubed
1/2lb (225g) lean venison, cubed (or ground venison)
12oz (350g) steel cut oats (soaked for 1 hour and drained)
1 onion
3 teaspoons (9g) kosher salt
1 teaspoon (2g) white pepper
1/2 teaspoon (1g) black pepper
1/2 teaspoon (1g) allspice
1/4 teaspoon (0.5g) cinnamon
1/2 teaspoon (0.5g) cloves
1/2 cup (125ml) ice water
3 feet (1m) natural hog casing, soaked in water
For the grünkohl
3/4lb (340g) thick cut bacon, cut into 1″ (2cm) pieces
3 medium onions, chopped
3 cloves garlic, chopped
2lbs (1kg) green curly kale, stripped from the stems and chopped
Salt and pepper
3 tablespoons (45ml) German mustard
1/4 teaspoon (0.5g) nutmeg
6.5 cups (1.5L) venison stock (or beef stock)
6 German-style smoked sausages
6 pinkelwurst (see above recipe)
1/4 cup (40g) oatmeal (if necessary)
Preparation
For the pinkelwurst
1
Keep all tools, cubed meat,  and meat grinder parts in freezer prior to use. It is important to keep everything VERY cold throughout this process. 
Make sure the oats soak for 1 hour. 
2
Roughly chop the onion, then pass it, the pork cubes, and the venison cubes through a fine dye in the meat grinder. Mix the resulting mince with the spices, soaked oats, and ice water, until very well combined. 
3
Stuff into hog casings and tie off the ends. Keep in the fridge until you're ready to add them to the main dish. 
For the grünkohl
4
In a very large pot, fry the bacon over medium heat until crispy.
Add the chopped onions and cook until beginning to brown, about 10 minutes. 
Add the garlic, cook for another 2 minutes. 
Add the chopped kale and sauté until the kale reduces by half, about 5-8 minutes. 
5
Season with a pinch of salt and pepper (go easy on the salt until the end, as the bacon may be very salty). 
Add the mustard and nutmeg and stir in. Now add the venison stock. 
Stir everything together, cover, and cook over low heat, stirring every 15 minutes or so, for 1.5 hours. 
6
Add the smoked sausages and pinkel sausages to the pot. Gently stir them into the hot liquid and cook, uncovered, for another 30 minutes. 
You want the grünkohl to be a thick, almost dry, stew consistency. If you find that there's still a lot of liquid at this point, you can add in 1/4 oatmeal to soak up the excess liquid. 
Cook until the liquid has been absorbed and the oats are soft. Check for seasoning and add more salt if need be. 
7
Remove the sausages.
Spoon out the kale onto plates, then top with 1 smoked sausage and 1 pinkel sausage. You can either remove the skin on the pinkel before serving it, or slice the pinkel open on the plate. I removed the skins.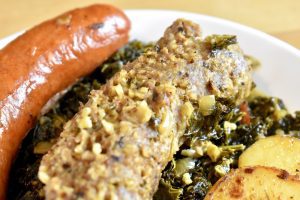 Serve with boiled, or panfried potatoes, German beer, and schnapps to help it all go down. Enjoy!