Georgian Ruffed Grouse Tabaka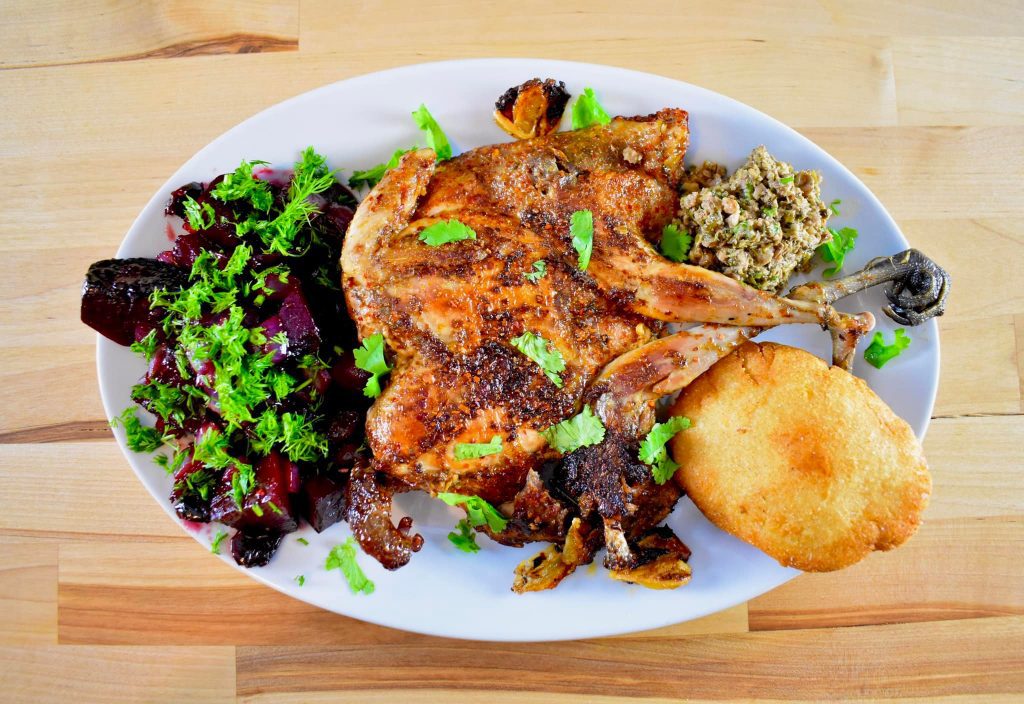 This Georgian ruffed grouse tabaka is an amazing dish to make with your whole plucked grouse or partridge. You could also use Cornish hens.
It's important to use a heavy cast iron pan for this cooking method, which involves slow cooking the bird in butter under the pressure of lots of weight. 
Ajika spice or paste can be found in some grocery stores (I found some at Trader Joe's) or can be purchased online. 
Prep Time

5 min

Cook Time

20 min

Total Time

25 min

Ready in

35 min

Yield

2 servings

Serving Size

1/2 grouse
Cuisine

Course

Cooking Method

Special Equipment
Ingredients
1 grouse or partridge (I used a ruffed grouse), plucked and whole
Kosher salt
Ajika spice blend or paste
4 tablespoons (60g) butter
3 cloves garlic, peeled and smashed
Cilantro to garnish
Preparation
1
Using a sharp knife or kitchen shears, cut down the backbone of the bird from the tail to the neck so that both sides become fully separated. 
Lay the bird down, breast side up, and push gently but firmly on the breast/keel bone so that the entire bird flattens. 
This is called spatchcocking or butterflying. 
2
Rub the bird down generously with the ajika on both sides and a little pinch of salt. 
3
Melt the butter in the case iron pan over medium low heat. 
Place the grouse breast side down in the butter and scatter the garlic around it. 
Place another (heavy) pan on top of the grouse, then stack on plenty of weight (a tinfoil line brick, a mortar and pestle, cans of soup, etc.).
Lower the heat a bit and cook for 10 minutes. 
Flip over the bird and remove the garlic if it looks like it's going to burn. 
Cook for another 10 minutes, or until it's cooked through (165°F internal temp). 
Let rest for 5 minutes before cutting it in half. 
4
To serve, scatter with cilantro leaves. Serve with garo, a salad, and bread. Enjoy!