Fingerling Patatas Bravas with Black Garlic Aioli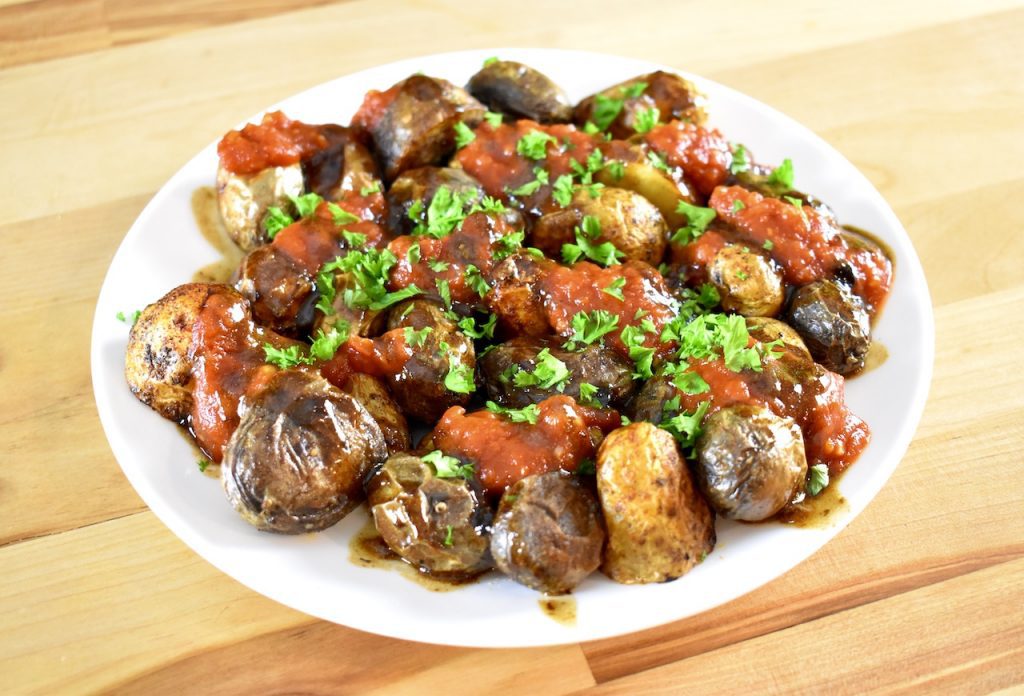 This fingerling patatas bravas recipe has the added twist of black garlic in the classic aioli that tops it, creating a sweeter and richer version that will be a big hit at any party. 
Serve this as a tapas dish with toothpicks for guests to spear the potatoes with, or serve it as a side in a Spanish-inspired dinner, like with Ruffed Grouse Pimentón. 
Prep Time

30 min

Cook Time

30 min

Total Time

1 hr

Yield

4-6 servings as appetizer or tapas
Cuisine

Course

Cooking Method

Suitable for Diet

Special Equipment

Motar and pestle or food processor

Difficulty
Ingredients
For the potatoes
2lbs (1kg) fingerling potatoes (I like to mix types and colours)
2 tablespoons (30ml) olive oil
1 teaspoon (2g) smoked paprika
1/2 teaspoon (3g) kosher salt
Chopped fresh parsley to garnish
For the aioli
2 cloves fresh garlic
Pinch of kosher salt
1 head black garlic
2 egg yolks
2 teaspoons (10ml) sherry vinegar (or cider vinegar)
1/3 cup (80ml) olive oil (preferably Spanish)
Black pepper
For the red sauce
1/2 tablespoon (8ml) olive oil
1 clove garlic, minced finely
1 shallot, minced finely
1 cup (250ml) puréed tomatoes or passata
1 teaspoon (4g) white sugar
1/4 teaspoon (2g) kosher salt
1/2 teaspoon (1g) smoked paprika
Preparation
1
Preheat oven to 450°F (230°C, gas mark 8).
2
Roughly shop the fresh garlic, then put into a mortar and pestle or food processor with the salt. Mash into a paste. 
Remove the cloves from the head of black garlic and roughly chop them. Add them to the garlic paste and mash in. 
Add the egg yolks and vinegar and mash them into the paste. 
Slowly (very slowly!) add the olive oil, 1 teaspoon (5ml) at a time, while constantly stirring (or running the processor). The sauce should slowly absorb the oil and turn very creamy and silky. If you add the olive oil in too fast, the emulsion will break and the oil will separate. 
Taste, then season with black pepper and more salt if necessary. Set aside for the time being. 
3
Make sure all of the potatoes are cleaned and of a similar size. Cut any extra large potatoes to match the size of the rest. 
Toss the potatoes in oil, salt, and paprika, the dump them onto a lined sheet pan or baking tray. 
Put in the oven for 15 minutes, flip, then put back in for another 10-15 minutes, or until crispy on the outside and tender on the inside. 
4
Meanwhile, make the red sauce. 
Heat the olive oil in a small pot over medium heat. Add the garlic and shallot and cook until softened (not browned), about 5 minutes. 
Add the tomato sauce, sugar, salt, and paprika. Cook on low, stirring often, for 10 minutes. 
5
To serve, spread the potatoes out on a plate or serving dish. Spoon dollops of the tomato sauce around the plate, in between and on top of the potatoes. 
Drizzle the black garlic aioli over everything in an artful pattern. Garnish with chopped fresh parsley and serve with toothpicks. Enjoy!