Ewa Dodo with Largemouth Bass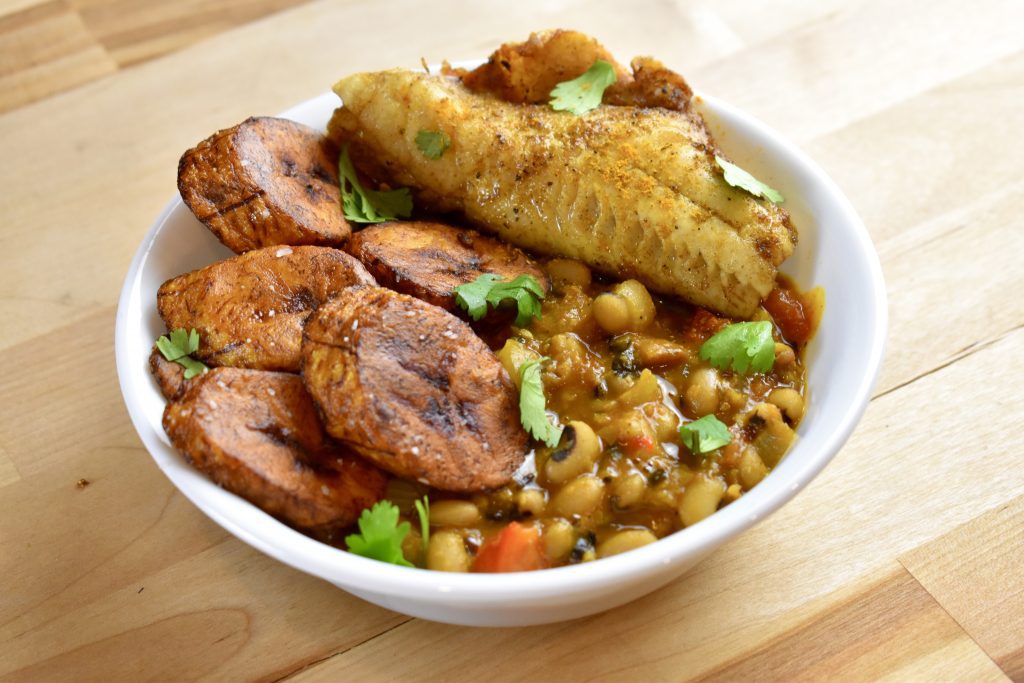 Ewa dodo is a delicious dish of stewed beans (ewa) and plantains (dodo). It's a very popular dish in Nigeria and is often served with fish, either stewed with the beans or on the side. I did a little bit of both, cooking the beans in a stock made from bass parts and serving curried largemouth bass fillets on the side. Any lake fish (perch, bass, walleye, pike, etc.) would work for this dish, or you could omit the fish altogether and make it vegetarian. Just use vegetable stock instead of making the fish stock. This is spicy, hearty comfort food at it's finest, akin to chili or mapo tofu in its ability to simultaneously comfort and excite the tastebuds. 
Cook Time

2 hr 30 min

Ready in

2.5 Hrs + soaking time

Yield

4 Servings
Cuisine

Course

Cooking Method
Ingredients
1.5 cups (375mL) dry black eyed peas
2 largemouth bass
3 tablespoons African red palm oil
2 onions, chopped finely
2 Scotch bonnet chilies, de-seeded and minced
2 cloves garlic, minced
1/2 red bell pepper, chopped finely
1/2 teaspoon (2.5mL) smoked paprika
16 oz (500mL) canned chopped tomatoes
Juice of half a lemon
1 tablespoon curry powder
Kosher salt and black pepper
Maggi or chicken bullion cube (optional)
2 ripe plantains, peeled and sliced into thick coins
Neutral oil
Cilantro for garnish
Preparation
1
Dump dry beans into a bowl, then cover with water. Soak 6-12 hours. 
2
Fillet the bass, setting the fillets aside in the fridge. 
Discard the gills and guts, but keep everything else (head, tails, collars, skeleton). 
Put the fish bits into a large pot and cover with several inches of cold water. Slowly bring the water to a simmer and keep it slowly simmering for 20 minutes, skimming off any foam that surfaces. 
Strain out the fish bits and set them aside. Check and make sure there are no bones in the water. 
3
Add the soaked beans to the fish stock and add any water necessary to cover them by at least 3 inches (7.5cm). Add a pinch of salt. 
If so inclined, you can go over the fish bits and pull off any usable meat that may be tucked in the collar or tail and put it in the pot with the beans. Discard the rest. 
Bring the beans to a simmer.
4
Cook the beans for 1.5 hours (90 min) on a low simmer.
***See step 5.
Keep an eye on the beans and stir every once in a while so they don't stick to the bottom.
If the water dries up before the beans are soft, add more a little at a time.
After about 90 minutes, let the water mostly dry up, so the beans are saucy rather than soupy. Use a fork to mash about 1/3 of the beans.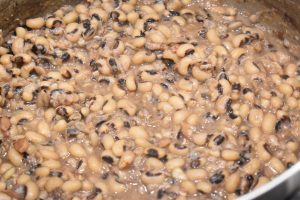 5
In the last 20 or 30 minutes in which the beans are cooking, start this step. 
Melt the palm oil in a frying pan, add the onions, chiles, garlic, peppers, salt, pepper, and smoked paprika.
Cook for 10 minutes on medium heat, stirring often.
Add tomatoes and cook for another 5 minutes.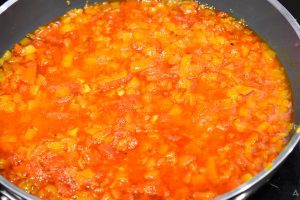 Once the beans are done,  add this mixture to the pot, as well as the Maggi or bouillon cube if using.
6
This should make the beans pretty liquidy again, so simmer it down for another 15 minutes or so until it dries out a bit, stirring often so it doesn't stick to the bottom. Taste for seasoning and add salt or more chillies if necessary.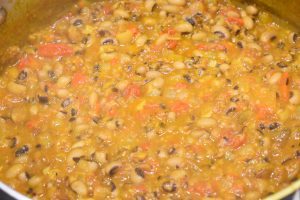 Meanwhile, fill a frying pan with 1 inch (2.5cm) of oil and bring to about 350°F (175°C).
7
While the oil is heating, take the fillets out of the fridge. Drizzle them with the lemon juice, then sprinkle them evenly with salt, pepper, and curry powder. 
8
Gently drop the plantain pieces in the hot oil and fry for about 5 minutes, or until golden brown, flipping at least once. 
Remove with a spider or slotted spoon and drain on paper towels. Sprinkle them with a bit of salt while they're still hot. 
9
Now put the fish fillets into the oil, frying them for about 2 minutes per side, or until flaky. 
Gently remove them from the oil and set on paper towels to drain.
10
Scoop the stewed beans into bowls, then top with fried plantain and a fillet for each bowl. Scatter cilantro leaves over to garnish and serve. Enjoy!