Eddoes Masala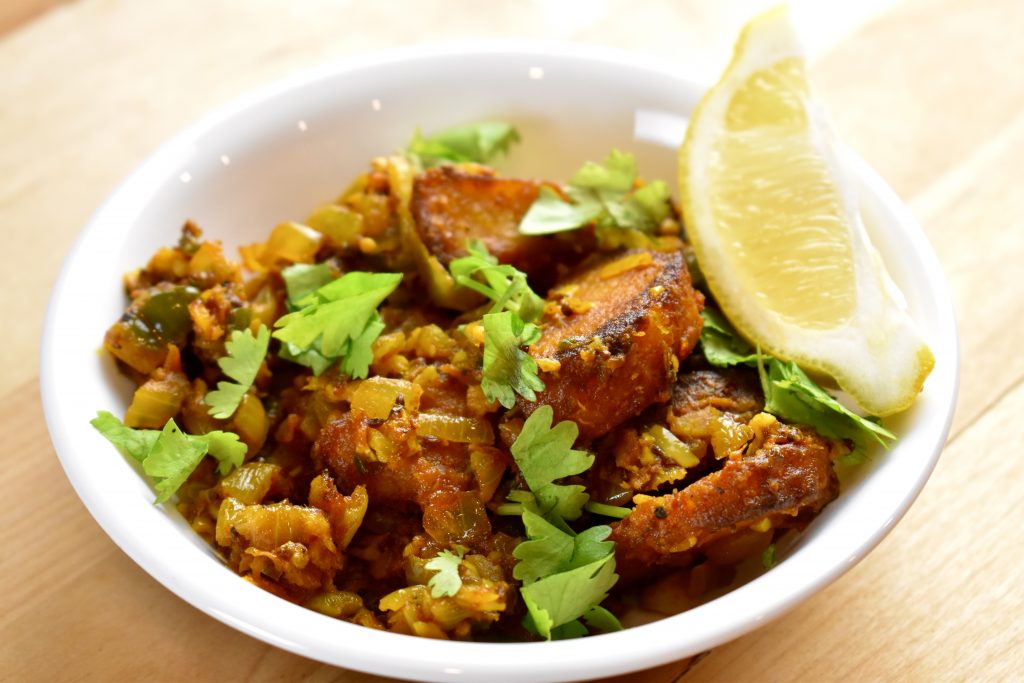 Ever wondered what to do with eddoes, those small hairy tubers often located in the potato isle of a grocery store's produce section? Eddoes are starchy tubers related to the taro plant and somewhat resemble potatoes in texture. This spicy, dry masala with northern Indian and Pakistani flavours is a great way to try them out!  If you don't happen to have some of the harder to find spices in the recipe, feel free to replace them with a pre-mixed curry spice blend. 
Prep Time

15 min

Cook Time

45 min

Total Time

1 hr

Ready in

1 Hr

Yield

2 Servings
Cuisine

Course

Cooking Method

Suitable for Diet

Special Equipment

Recipe Difficulty
Ingredients
3 medium eddoes
1 and 1/2 teaspoons turmeric split
Vegetable oil
1/2 teaspoon whole ajwain seeds
1/2 teaspoon whole yellow mustard seeds
1/2 teaspoon whole cumin seeds
1/4 teaspoon asafoetida (hing) powder
OR replace the above 4 spices with curry powder
1 large onion, peeled and chopped
3 cloves garlic, minced
1 thumb-sized piece of ginger, peeled and minced
1 jalapeño or green chili, de-seeded and minced
1 large tomato, cut in half
1 teaspoon garam masala
1 teaspoon ground coriander optional
1/2 teaspoon Kashmiri chili powder or chili flakes optional
1/2 teaspoon amchur (mango powder) optional
2 teaspoons kosher salt
Lemon wedges for garnish
Fresh cilantro, chopped, for garnish
Preparation
Eddoes
1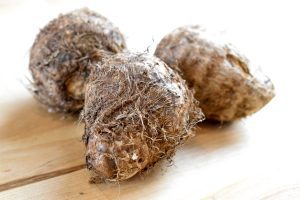 Frying the eddoes
1
Put the eddoes into a pot and cover with water.
Bring to a boil, then reduce to a strong simmer.
Simmer for about 30 minutes, or until a fork slides easily into the eddoes (like cooked potatoes).
Drain and set the eddoes aside to cool. 
2
Once cool, use a spoon or the back of a knife to peel the rough skin off of the eddoes. 
The flesh will be a little slimy and purple/grey, but that's okay!
Once peeled, slice the eddoes into 1/2 inch (1 cm) coins. Cut the larger middle coins in half. Dust both sides of the coins with 1 teaspoon of the turmeric powder. Turmeric stains, so be sure to do this over paper towels. 
3
In a small frying pan, add about a 1/2 inch (1 cm) of vegetable oil and bring to medium high heat. 
Add the eddoes coins and fry on both sides until golden and crispy, about 6-8 minutes. 
Remove from the oil and drain on paper towels while you prepare the rest of the dish. 
Putting it together
1
Discard all but approx. 2 tablespoons (30mL) of the frying oil. 
Bring back up to medium high heat in the frying pan and add the ajwain, mustard seeds, cumin, and asofoetida (or 1 tablespoon of curry powder). Cook for about 1 minute or until the seeds begin to pop. 
2
Add the onion, garlic, ginger, and chili and fry for another 5 minutes until the onion begins to soften. Turn down the heat if things seem to want to burn. 
3
Now take the tomato halves and rub the flesh sides on a cheese grater into the pot until all you're left with is the skin. Be careful of your fingers! 
Cook for another 2 or 3 minutes. 
4
Add the garam masala, coriander, chili powder, amchur, the rest of the turmeric, and the salt, then stir. 
Add the fried eddoes back into the pan and stir everything together well for about 1 more minute. 
Tip into bowls and garnish with chopped cilantro and lemon wedges. Serve with dal, kachumber salad, and Indian breads or basmati rice. Enjoy!