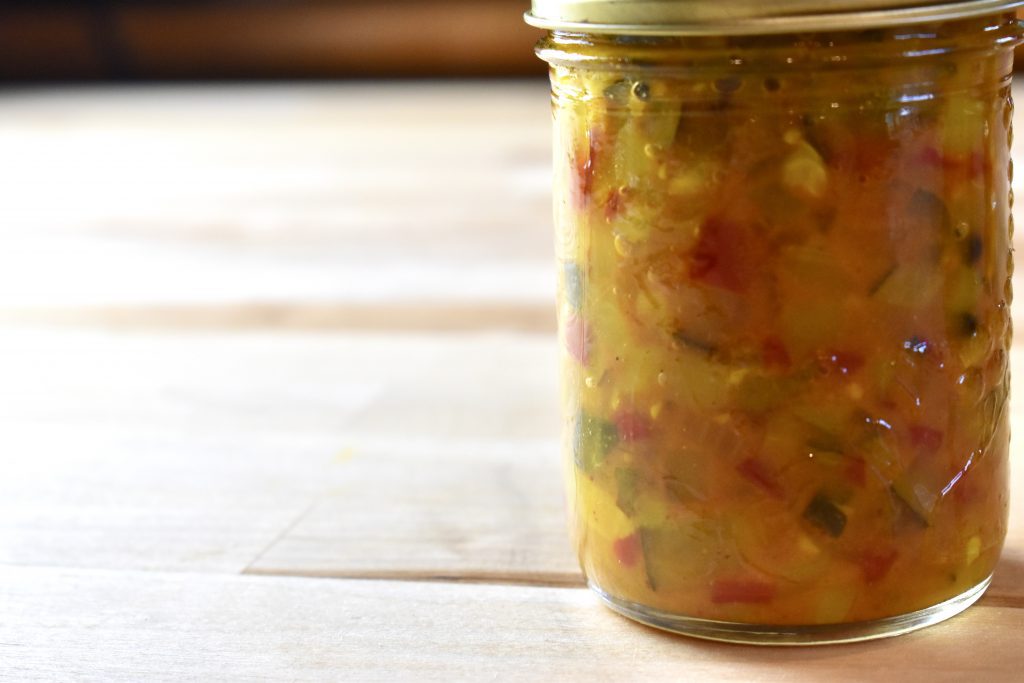 This old fashioned sweet and spicy zucchini relish is a great way to use up that big old zucchini you found hiding in the garden (or for the one left on your front step by a 'well meaning' neighbour). Using the refrigerator pickling method, there is no need to worry about fussing with water-bath canning or making 30 jars at once. Simply make the recipe, put it in jars and pop in the fridge. They'll last you a couple months and provide you with delicious relish to put on sausages, burgers, rice, egg salad, bbq meats, sandwiches, and more! 
Prep Time

15 min

Cook Time

15 min

Total Time

30 min

Ready in

2.5 Hrs

Yield

2 - 500ml or pint jars
Cuisine

Course

Cooking Method

Suitable for Diet
Ingredients
For the Spice Mix*
1 tablespoon turmeric
1 teaspoon yellow mustard seeds
1 teaspoon paprika
1 bay leaf, crushed
1/2 teaspoon celery seed
1/2 teaspoon black pepper
1/2 teaspoon cinnamon
1/2 teaspoon cayenne
1/4 teaspoon dried ginger
1/4 teaspoon nutmeg
2 cloves
2 allspice berries
2 green cardamom pods
For the Relish
1 large (overgrown) or 2 medium zucchini (courgettes)
2 red peppers
1 large white or yellow onion
2 jalapeno peppers (optional)
3 tablespoons kosher salt
1 cup white vinegar
1 cup cider vinegar
1 cup white sugar
spice mix
Preparation
For the Spice Mix
1
Combine all of the spices and either grind them, or leave them whole depending on your preference. If left whole, the spices will provide a POP of intense flavour every once in a while when eating the relish. 
For the Relish
2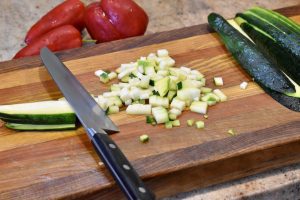 Chop the zucchini, peppers, and onions into similar sized pieces and add to a large bowl. Mince the jalapeño and do the same. 
3
Add the salt to the bowl and mix everything together well. Cover the vegetables with water and let sit on the counter for 2 hours. This will help draw out some of the water inside the vegetables.
4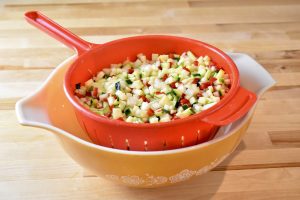 After 2 hours, drain the vegetables. 
5
Add the rest of the ingredients to a large pot and bring to a simmer. Once the sugar has dissolved, add the drained vegetables and stir to combine.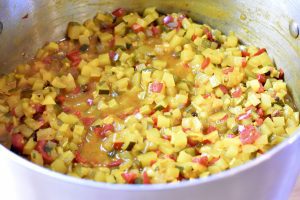 6
Cook mixture on a low simmer for about 15 minutes. 
Let cool then transfer to jars.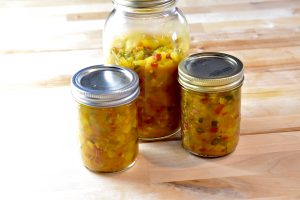 7
Keep in the fridge for a couple months, if you can manage to keep it that long! Enjoy!
*Feel free to use a pre-made pickling spice with a tablespoon of turmeric added if you prefer. You can grind the spices, or leave them whole if you prefer the odd POP of spice when you're eating your relish!