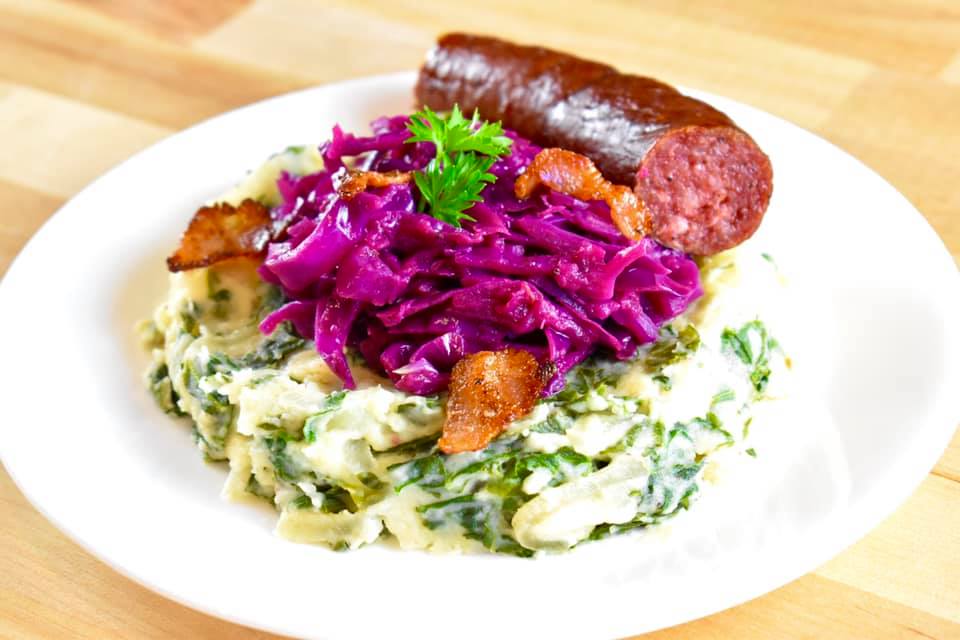 Stamppot is the blanket term for mashed vegetables in the Netherlands. It is also their national dish! This stamppot is made with green curly kale, or boerenkool, and is served with a Dutch smoked sausage (rookworst or metworst), which is a traditional combination. Less traditional is the addition of the braised red cabbage and apple (rodekool met appel), but I love how it's sharpness cuts through the richness of the sausage and potatoes! It's up to you if you want to serve them together. If you can't find Dutch sausages, the narrow links of smoked kielbasa found in many deli counters will do the trick just fine. 
Prep Time

20 min

Cook Time

1 hr

Total Time

1 hr 20 min

Ready in

80 min
Cuisine

Course

Cooking Method
Ingredients
For the Braised Cabbage
1/2 head red cabbage
2 tart apples
Salt
1 bay leaf
1/2 teaspoon ground clove
1 tablespoon butter
2 tablespoons cider vinegar
1 pinch of white sugar (optional)
For the Stamppot
4 large Russet, or other floury potatoes
2 large cloves garlic
1 link, or 6″ piece of rookworst, metworst, or kielbasa per person
1/4 cup 50/50 cream or whole milk
2 tablespoons butter
2 slices bacon
2 shallots or 1 small onion, sliced
1 bunch curly green kale
Salt
1/2 teaspoon white pepper (you can use black pepper if you don't have white)
Preparation
For the Braised Cabbage
1
Slice cabbage half into thin shreds, or you can shred it on the large holes on a box grater. 
Peel the apples, and cut off the sides, leaving the core. Either slice the apple pieces into matchsticks, or shred on the box grater. 
2
Add the cabbage, apples, bay leaf, clove, and a pinch of salt to a pot. Add about a 2 inches (5 cm) water. Bring to a boil, then lower to a slow simmer. Cover and cook for 45 minutes, checking every 10 minutes or so to make sure it doesn't boil dry. If it is looking dry, add a small amount of water. 
3
After 45 minutes, remove the lid, discard the bay leaf, and add the butter and vinegar, and let it cook down until nearly all the liquid is gone. Taste, and add a small pinch of sugar if you think you'd like it a little more sweet.
Take off the heat, cover, and set aside until everything else is done. 
For the Stamppot (*see note)
4
Wash kale and remove the leaves from their ribs. Chop into small pieces or ribbons. 
Slices the shallots or onion into thin half moons. 
Set aside while you prepare the potatoes.
5
Peel the potatoes and cut into 6 even pieces each.
Peel and trim the garlic cloves. 
Add the potatoes and garlic to a pot, cover with water and add a pinch of salt. Bring to a boil, then lower to a simmer. Cook for 10 minutes, then add sausages to the water to warm them through. Cook for another 10 minutes or until potatoes are tender when pierced with a fork. 
Scoop out 1 cup of the potato cooking liquid. Leave the potatoes and sausages in the warm water until the kale is done cooking. 
6
Meanwhile, in a large frying pan, fry the two pieces of bacon until crispy. Keep that bacon fat!
Slice into slivers and set aside.
7
Add the shallots or onions to the bacon fat over medium heat and fry until they begin to soften. Add the kale and cook down until it is all very wilted and has reduced in size. 
Add the cup of potato cooking liquid and cook, until liquid is reduced by half. Remove from heat.
8
Drain the potatoes, setting the sausages aside, then put the pot back over low heat. Once the potatoes are looking dry, add the butter, cream, and pepper. Using a potato masher, begin mashing until about half way done.
Now add the contents of the frying pan, mashing the kale and liquid into the potatoes. If it seems too soupy, increase the heat and cook some of the liquid out, stirring constantly. If it seems too dry, add some cream or milk. Add salt to taste. 
9
To serve, create a circular bed of the stamppot, top with a scoop braised cabbage and lean a sausage onto the side. Sprinkle with bacon bits. Enjoy!
*For a much simpler version of stamppot (it will be less flavourful though), simply add chopped kale to a pot with your potatoes. Cover with water and boil until potatoes are cooked through. Drain, add butter and milk, and mash everything together.