Dandelion and Onion Bhaji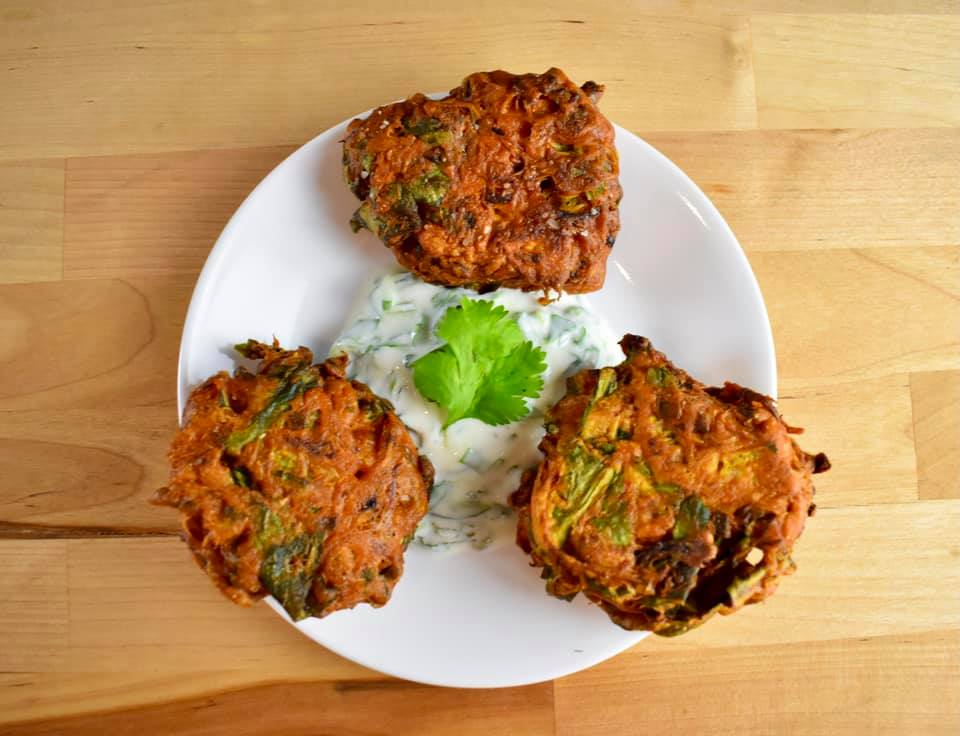 Bhaji are delicious vegetable fritters found all over the Indian subcontinent. The ones most familiar to North Americans are probably onion bhaji, due to the fact that they are a ubiquitous appetizer at every Indian restaurant. 
I took the standard onion bhaji and added foraged dandelion leaves and flowers to create a wild version of the classic onion bhaji. 
Harvest the flowers in full bloom on a sunny day and don't wait too long to use them in the recipe or they may close up or start drying out. I like to separate the green parts from the yellow petals since it cuts down on bitterness, but it's not necessary if you don't feel like doing it. 
Chickpea flour, also known as gram or besan flour can be found in most major grocery stores in the flour and baking section. 
Prep Time

20 min

Cook Time

15 min

Total Time

35 min

Yield

6-10 bhaji, depending on size
Cuisine

Course

Cooking Method

Suitable for Diet
Ingredients
20 dandelion flowers, yellow petals picked out and green sections discarded
20 large dandelion leaves, roughly chopped
1/2 large, or 1 small onion, sliced thinly
1/2 green chili or jalapeño, seeded and minced
3/4 cup chickpea flour (gram or besan)
1/2 teaspoon (2g) baking powder
1/2 teaspoon (3g) kosher salt
1/2 teaspoon (2g) Kashmiri chili powder, or paprika
1/2 teaspoons (2g) turmeric
1/2 cup + 1 tablespoon (140ml) cold water
Vegetable oil
Preparation
1
Add all of the ingredients except for the vegetable oil to a bowl and mix well. 
You should end up with a thick batter.
2
Pour an inch (2cm) of oil into a pot, skillet, or frying pan and bring to 350°F (175°C) over medium high heat. 
Using two spoons, scoop up a dollop of the batter with one, then scrape it off into the oil with the other, doing this close to the surface so it doesn't splash. Fry three at a time so as not to overload the oil and cool it down. 
Try to maintain a temperature of 325°F to 350°F at all times. 
3
Fry for 3-4 minutes per side, or until they are nice and golden brown. I like to check one to make sure that the batter is cooked all the way through by cutting it in half after cooking. 
Drain the fried bhaji on a rack set over paper towels and repeat until they are all fried. 
4
Serve immediately with chutney, hot sauce, or raita. Enjoy!