Clam, Corn, and Chanterelle Chowder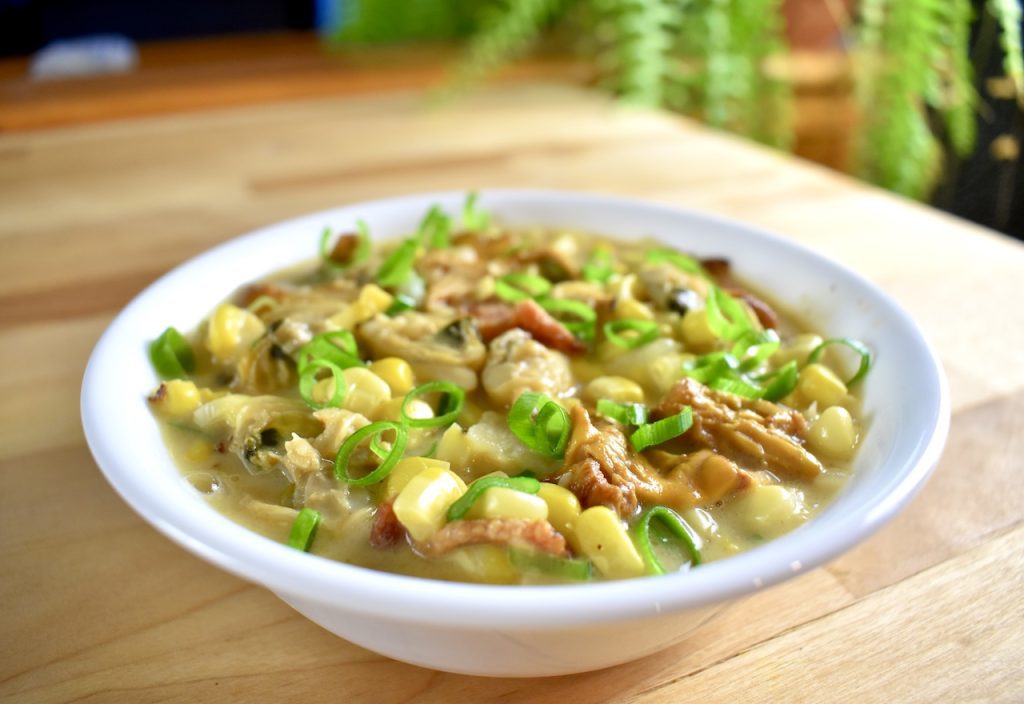 This clam, corn, and chanterelle chowder pairs three unlikely ingredients into one delicious chowder – trust me, it really works!
Prep Time

15 min

Cook Time

30 min

Total Time

45 min

Yield

4 servings
Cuisine

Course

Cooking Method
Ingredients
6 slices bacon, cut into large strips
12oz (350g) chanterelles, cleaned and cut into large bite sized pieces
1 onion, chopped
1 cup (250ml) fish stock or clam juice
1/2 cup (125ml) water
2 large cobs of corn or 1 can of corn
10 oz (300g) fresh, frozen, or canned clams
1/2 teaspoon (1g) black pepper
2 scallions/green onions, sliced
1/2 cup (125ml) heavy cream
2 teaspoons (5g) cornstarch
Salt to taste
Preparation
1
In a medium to large pot, fry bacon pieces over medium high heat until crispy, about 10 minutes. 
While the bacon is cooking, cut the corn off of the cobs and set aside. Cut the cobs in half.
Set aside the bacon to drain on paper towels and discard all but 1 tablespoon (15ml) of the bacon grease.
2
Add the chanterelles and onions to the grease in the pot and cook for about 6 minutes. 
Add the fish stock/clam juice, water, corn cobs (for flavour and starch), corn, clams, and the pepper. 
Bring to a simmer, reduce heat, and simmer on low for 10 minutes. 
3
Remove the cobs and discard. 
Add the bacon, scallions (save a pinch for garnishing), and cream to the pot. 
Make a slurry by combining the corn starch with 1 tablespoon (15ml) of water. Add it to the pot and stir it in well. 
Cook for 3 more minutes, or until the chowder thickens. 
4
Taste for salt. Depending on which style of clams, corn, and stock you used, you may not need any. Add a pinch of salt if it needs it. 
5
To serve, ladle into bowls and sprinkle with sliced scallions. Enjoy!