Bass Hushpuppies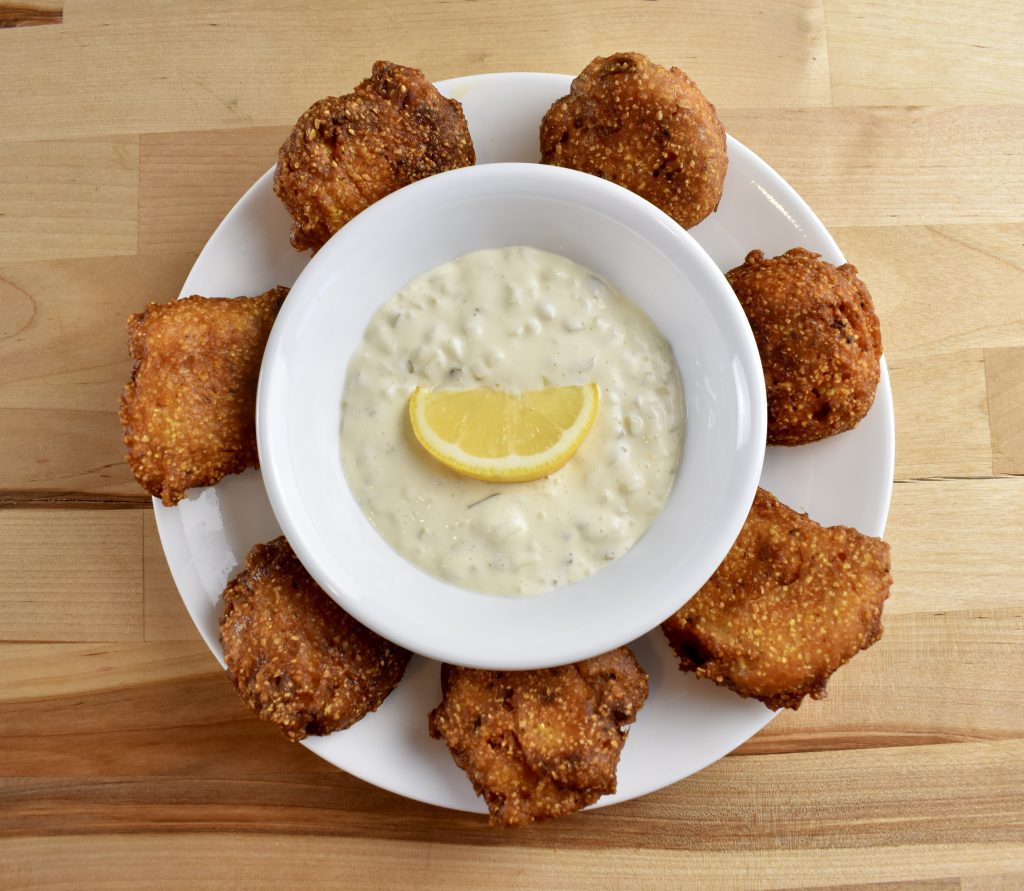 Though hushpuppies are usually found alongside fried fish and seafood snacks in the South, I combined them into one delicious snack by adding chopped largemouth bass fillets to hushpuppy batter. The batter is made from cornmeal; you can choose whether to use coarse cornmeal/grits, which will make for a crunchier "gritty" texture (which I enjoy) or finer cornmeal for softer fritters. If you deep fry these guys, they'll keep a more traditional rounder shape, but feel free to use less oil like I did, which may result in flatter hushpuppies. Serve with tartar sauce as an appetizer or snack. 
Prep Time

10 min

Cook Time

8 min

Total Time

18 min

Ready in

15 min

Yield

10-12 Hushpuppies
Ingredients
For the Hushpuppies
1/2 cup (62g) all purpose flour
3/4 cup (70g) med-coarse cornmeal
2 teaspoons (8g) white sugar
1 teaspoon (6g) kosher salt
1 teaspoon (4g) baking powder
1/2 teaspoon (1g) smoked paprika
1/2 teaspoon (1g) BBQ rub (optional), if rub is salty, reduce kosher salt in recipe
1/4 teaspoon (0.5g) black pepper
1 egg, beaten
3/4 cup (175ml) buttermilk (or whole milk with 3/4 tablespoon of white vinegar)
3 tablespoons (45g) cold butter, chopped into small cubes, or grated on large side of cheese grater
3.5 oz (100g) large- or smallmouth bass fillets chopped into 1/2″ (1cm) pieces
1 scallion/green onion, finely chopped
1 large garlic clove, finely minced
Neutral vegetable oil, for frying
For the Tartar Sauce
3/4 cup (175ml) mayonnaise
1 tablespoon (15ml) lemon juice
1 large pickle, chopped finely
1/4 small onion, chopped finely
Preparation
1
Mix together the flour, cornmeal, sugar, salt, baking powder, and spices very well in a large bowl until thoroughly combined. 
Add in the rest of the ingredients and gently fold everything together. Mix only until it is all combined, if there are a few lumps, it's okay. Try not to over mix or the hushpuppies will lose their fluffiness. 
2
In a cast iron or frying pan (or better yet, a deep fryer), bring 1-3 inches (2.5-8cm) of oil to 375°F (190°C). Use a temperature gauge to keep it around this temperature until the batter is added from which point you should try to keep it in between 350°F (175°C) and 375°F (190°C).
Use a spoon or ice cream scoop to scoop out golf ball sized lumps of batter and add them to the oil. Do a few at a time, making sure not to over-crowd the pan. 
Cook them for about 3-4 minutes per side, or until golden brown and cooked all of the way through (test one out to be sure). Use a slotted spoon or spider to lift the from the oil and let drain on a baking rack set over paper towel. 
Repeat until all of the batter is used. 
3
To make the tartar sauce, simply combine all of the ingredients well in a small bowl. 
4
Serve the hushpuppies as soon as possible, so they're eaten hot. Enjoy!